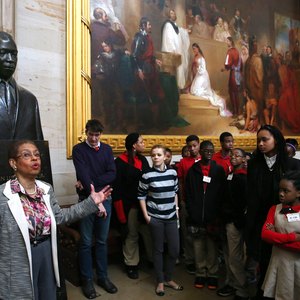 •••
Mark Wilson/Getty Images News/Getty Images
Public schools have turned to Target Corp. since 2007 for school field trip grants of up to $700 each. The school field trip grant is the only donation program by Target for schools. The country's second-largest general merchandiser -- with nearly 1,800 retail stores at the time of publication -- accepts online field trip grant applications Aug. 1 to Sept. 30 each year.
Eligible Field Trips
Field trip grants are available for trips away from a school's campus to museums and other historical and cultural venues. The field trip must be connected with what students are learning in the classroom, according to the retailer. Apply online for field trips scheduled between February and December the following year. January field trips are not funded. The field trip program will not provide grants for trips to other schools, religious organizations, athletic events, fundraisers or any destinations outside the U.S., U.S. territories or Canada.
Field Trip Examples
Star City High School in Arkansas announced in early 2015 that an art instructor was one of 5,000 teachers awarded Target field trip grants from among 25,000 applicants around the country in 2014. It was the fifth grant awarded by Target to the teacher. Funded trips, which include classroom studies or projects inspired by the destinations, have included excursions to the Arkansas Arts Center in Little Rock and Crystal Bridges Museum of American Art in Bentonville.
Submitting Online Applications
Target, which only accepts online applications, offers how-to guidelines on its school field trips via the field trip grant FAQ page on the company website. Information that must be provided includes the educational value of a field trip, a school's annual budget and the demographics of the school's student population. The FAQ page also lists what Internet browsers to use the year you are applying for the grant. Before pressing the "Submit" button, you can print a copy to correct any errors and ensure every section has been filled on the "Review Your Application" page. Target grants are not transferable. If a grant is awarded to a school, and the teacher who applied for the grant transfers to another school, the grant stays at the original school or must be returned.
Outside Application Help
Some popular destinations for school field trips offer outside assistance in the grant application process. For example, the website of the San Antonio Symphony offers details about the destination to include in the application. The website also offers suggested text to include for a grant to cover transportation costs to the Texas symphony's annual Young People's Concerts program. Sample descriptions of the educational value of each concert address only those events scheduled during Target's annual February-December field trip time frame.
References
Writer Bio
S.R. Haines is a veteran writer whose work has been published by newspapers, magazines, international news wire services and nonprofit publications on topics ranging from breaking news and politics to travel, parenting, education, business and technology. She earned a Bachelor of Journalism from the University of Texas at Austin.