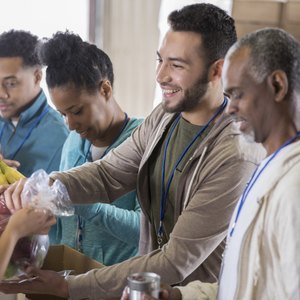 •••
asiseeit/E+/GettyImages
Women's shelters serve a vital role in helping women and their children escape domestic violence and homelessness. Shelter services vary, but most offer at least short-term, safe housing. Many of the residents arrive with few or no belongings, including hygiene products or a change of clothes. In addition to financial donations, these shelters need many item donations, but confirming their needs first ensures you don't get disappointed in your donation efforts.
How to Find Shelters
Most communities have local or nearby women's shelters, but many don't advertise their addresses to protect their residents' safety. To find which shelters might need donations, contact groups that often deal with the shelters, such as local churches or law enforcement offices. Searching online for nearby crisis centers might put you in contact with someone who can guide you toward shelters in need of donations. They can provide you with phone numbers or drop-off locations, which might be different than the shelter's physical address. Many state human services departments provide lists of shelters, as does the U.S. Department of Housing and Urban Development.
Donation Policies
Before you load up the items you plan to give to a women's shelter, call the shelter to ask about their donation policies. Some accept only new items, or only take items that fill specific immediate needs. Many have certain days or times they accept donations. Lack of storage space often keeps shelters from accepting large items such as furniture, or too many small items at once. Provide a thorough description of what you have to donate to confirm that the shelter needs and wants the items.
Donations Commonly Needed
Women and children might stay in a shelter for as little as a day, or for several months. Many arrive under emergency circumstances, so shelters typically need basic necessities like toothpaste, soap, toilet paper and diapers. Some accept other donations such as clothing, towels, sheets and blankets. Many need nonperishable food or kitchen items like storage bowls and small appliances. Shelters might ask for old cell phones as well. When you confirm what items they need, ask what condition the items must be in. Items like appliances could be gently used, but the shelter might require sheets and towels to be new. Many require toys to be new and in the original packaging to help avoid problems with recalled items. In many cases, you can deduct these items on your taxes when the shelter provides a donation receipt.
Financial Donations
Shelters always need financial donations, which help them pay their daily expenses and purchase necessary items for the residents. Many appreciate gift cards as well as check or cash donations. Giving gift cards ensures the money you donate goes where you want it to. For example, giving a grocery store gift card means that money goes to feed the shelter's residents, or providing a card to a bed and bath store helps the shelter buy items such as towels. Ask about special programs; for shelters that have therapy programs like art groups, cards for craft stores might be helpful. When you're not sure what is the most helpful for the shelter, write them a check or give them cash. Ask for a receipt for tax purposes.
References
Writer Bio
Based outside Atlanta, Ga., Shala Munroe has been writing and copy editing since 1995. Beginning her career at newspapers such as the "Marietta Daily Journal" and the "Atlanta Business Chronicle," she most recently worked in communications and management for several nonprofit organizations before purchasing a flower shop in 2006. She earned a BA in communications from Jacksonville State University.