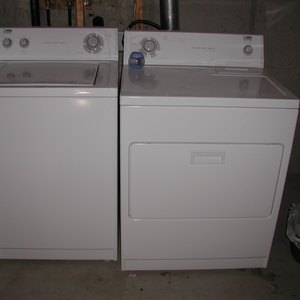 Getting a new washing machine and dryer is exciting, but getting rid of the old washer and dryer is just a hassle. Most garbage pickup companies will not pick them up for you, even for an extra fee. Giving it to a used appliance store is one option, but you usually have to figure out how to get it to them. In most cases, donating your washer and dryer to charity is the best option. Charities will usually send a truck out to your home to pick it up, you get a tax deduction for donating it, and best of all, you get peace of mind knowing that you have helped someone.
Clean up that old washer and dryer. When you pull them out of their original positions, there will be dust galore and probably lots of small items such as buttons, coins, and pens that you haven't seen for quite some time. Vacuum out the exhaust vents on the dryer and wipe down every surface of both appliances. Then, using Windex or a liquid cleaner and spray down the appliances.
Locate a charity that is willing to pick them up. Charities vary from place to place, but there will be many charities in the phone book that will be willing to take your washer and dryer. You can start with Goodwill. Also try veterans associations, disease-related charities and homeless shelters. Get on the phone and call charities until you find one that will send out a truck to pick up your old washer and dryer.
Look for your old owner's manuals and tape them to the appliances. If you don't have the manuals anymore, don't worry about it. Also, make sure that you secure any hoses or accessories that go with the washer and dryer.
Make sure you follow the charity's instructions for having the washer and dryer ready on the day the truck comes to pick them up. Offer assistance to the driver.
Ask for a donation receipt. This is the form that you should keep with your taxes if you claim a charitable donation. Usually, charities have a generic form that they give out to those who donate. You must itemize the form and include the date of the donation. Just put it in your tax file to keep on hand in case you are ever audited by the IRS.
As long as the truck is coming, go through your closets and see if you have anything else to donate.
Tips
As long as the truck is coming, go through your closets and see if you have anything else to donate.
Writer Bio
Rachel Terry has a Bachelor of Arts in English from Brigham Young University. She has been a freelance writer since 1998, authoring literary study guides, as well as articles and essays.