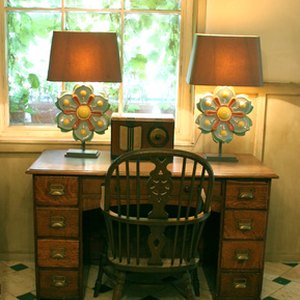 •••
old fashioned desk image by Gina Smith from Fotolia.com
Donating used furniture in Frederick, Md., is a generous deed that helps the charity to which you donate. If the furniture is not used in-house, the charity will often sell your furniture at a very low price to the general public. Thus, your donation becomes a two-fold act in that it helps not only the charity, but also the person who needs furniture but cannot pay the price of new furniture. There are several outlets for your donation in Frederick, some of which will pick up your donation wherever you request. Your donation is tax-deductible, so request a receipt for the items you turn over.
Clean the furniture. If the furniture is worn, torn or dirty, most organizations will not accept it. You want your donation to be appealing and desirable to others.
Organize your items. Separate the items you are donating from the rest of your furnishings. You don't want something taken away that wasn't intended for donation.
Itemize your furniture to be donated and ask for a signature on the list, or for a receipt from the organization. If that receipt is not itemized, attach your list to it. When you file your income tax return, the donation is tax deductible. It is always wise to have a signed itemized receipt for your donation for supporting information.
Contact several organizations in Frederick to make sure they accept donations. Habitat for Humanity ReStore actively looks for home furnishings, as well as building materials and appliances in good condition for the homes they are constructing. They also have a retail outlet where customers can pick up used items at low prices. There is also a Salvation Army store on Fifth Street in Frederick that accepts donations.
Speak with the Maryland Veterans Organization in Frederick, which provides outreach programs and welcomes donations.
Place a classified ad in the Frederick Post-News and local community newsletters for your free furniture. Many people respond to anything that is "free."
Help out a college student. Two colleges are located in Frederick: the Frederick Community College and Hood College. Students usually are grateful for furniture donations.
Determine if your furniture is of antique or heritage value. The African American Resources Cultural and Heritage committee in Frederick is setting up a museum and would be willing to look at your belongings in hopes of gaining a noteworthy donation.
Goodwill Industries has two locations in Frederick that will accept donations. They are unable to pick up.
References
Resources
Tips
Goodwill Industries has two locations in Frederick that will accept donations. They are unable to pick up.
Writer Bio
Jann Seal is published in magazines throughout the country and is noted for her design and decor articles and celebrity *in-home* interviews. An English degree from the University of Maryland and extensive travels and relocations to other countries have added to her decorating insight.