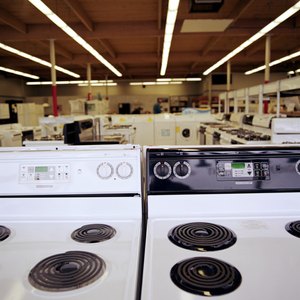 •••
Chad Baker/Jason Reed/Ryan McVay/Photodisc/Getty Images
Donating your used appliance to a charity is more than a handy way to get rid of that old washing machine or stove. Although donating an appliance requires more work than dropping off clothing or household goods, the end result is worth the effort. Your donation helps charitable organizations provide services in your community and allows low-income shoppers to purchase affordable secondhand appliances from thrift stores. You make a difference and earn a tax deduction for your donation. Just be sure to follow the charity's instructions when preparing to donate.
Safety First
Before donating a used appliance, make sure it has not been recalled by the manufacturer because of a safety hazard. The Consumer Product Safety Commission lists recall items on its website. Organizations that sell secondhand items often receive notification of recalled products and will check their list before accepting a used appliance. Examine your used appliance for damage, frayed cords, missing parts and other potentially dangerous problems. Unless the charity accepts nonworking appliances, make sure the appliance is clean and in working condition.
Call Ahead
Choose a charity for your donation. Search the charity databases at your local United Way or at DonationTown.org, or contact a charity that operates a thrift store in your community. Even if your appliance is in perfect working condition, the charity might refuse your donation, so call first. Some organizations do not accept large appliances, while others specify the type or age of the appliances they accept. Still others refuse older appliances that are not energy-efficient or that, because of style or color, will not sell easily.
Pick-Up or Delivery
Organizations like Salvation Army and Goodwill Industries pick up donations in some areas. However, you save the organization money if you drop off the item at the donation site. Some organizations require drop off. Ask the charity to recommend a service you can pay to pick up and deliver your donation. Note the charity's donation site address and the hours during which donations are accepted.
Charitable Tax Deduction
The charity will provide you with a receipt for your donated appliance. Donations to tax-exempt charities are deductible, but you will need the receipt to claim a charitable tax deduction when you file your annual tax return. Nonprofit organizations do not list the value of the donated item on the receipt. Some nonprofit organizations, such as the Salvation Army, provide valuation charts that list the value of specific types of appliances. Check the charity's website for valuation information or refer to Internal Revenue Service Publication 526, Charitable Contributions, for information on determining the fair market value of donated items.
References
Resources
Writer Bio
Gail Sessoms, a grant writer and nonprofit consultant, writes about nonprofit, small business and personal finance issues. She volunteers as a court-appointed child advocate, has a background in social services and writes about issues important to families. Sessoms holds a Bachelor of Arts degree in liberal studies.