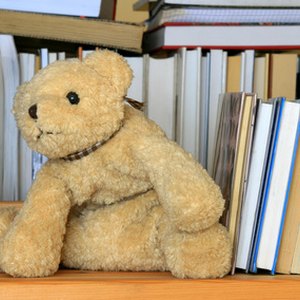 •••
teddy-bear image by Vitezslav Halamka from Fotolia.com
Making donations can feel good; both for the person making the donation and also for the person that is receiving the donation. For children that are in need, particularly during the holiday season, receiving a gift such as a stuffed animal can make everything. For individuals that are residing in the Midwestern state of Wisconsin, there are various different places in which people can drop off their gently used stuffed animals to make a child very happy.
Donate your stuffed animals to the Marine Toys for Tots Foundation. The Marine Toys for Tots Foundation accepts most toys from stuffed animals to Barbie dolls. The foundation has locations all throughout the United States, with many in Wisconsin, from Stevens Point to Milwaukee. To make direct stuffed animal donations to the foundation, individuals can visit one of the many locations. For instance, the Milwaukee branch is situated at 5880 N. 60th Street in the heart of the city. It can also be beneficial to make a phone call to the program's contact person.
Drop your stuffed animals off at Tex Reynolds' Toys for Toys program. Tex Reynolds' Toys for Tots program serves Wisconsin's Racine County. The not-for-profit organization has been in existence for more than 75 years, and aims to assist needy children around the holiday season every year. The program accepts stuffed animals, puzzles, tricycles, bicycles, books, games, dolls and more. In order to provide a stuffed animal donation, individuals can drop toys off at many different locations throughout the county, such as the Marquette fire station at 1437 Marquette Street in Racine.
Make donations to the Children's Hospital of Wisconsin. The Children's Hospital of Wisconsin is based out of Milwaukee, and accepts toys of all kinds, such as stuffed animals, all throughout the year. Apart from toys, the hospital also accepts donations of art supplies and games in order to help their patients with decreasing any possible feelings of fear and nervousness. Donations can be made by calling the donation hotline number, which is 414-266-2787.
Make sure to donate stuffed animals that are gently used and not in raggedy or poor condition, such as with eyes that have fallen off or torn off limbs.
References
Writer Bio
Lars Tramilton has been writing professionally since 2007. His work has appeared in a variety of online publications, including CareerWorkstation. Tramilton received a bachelor's degree with a focus on elementary education from Kean University.