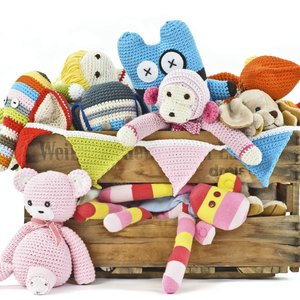 •••
CPaulussen/iStock/Getty Images
Donating stuffed animals is a good opportunity to instill community responsibility in a child, as well as clear up some space for the next influx of birthday toys. If the stuffed toys are yours or a relative's, just think of all the dust collectors that will be leaving your home. Before donating anything, you must thoroughly clean the toys and inspect them for things including holes, missing pieces or stains. If the items have any of these conditions, do not donate them.
Preparing for a New Life
No child should be snuggling a dirty, dusty, smelly stuffed animal. Anything you donate should be in good condition and as clean as you can get it. Most stuffed animals that do not contain plastic pellets can be tossed in a lingerie bag, washed on the delicate cycle using cold water and air-dried. When the toy is completely dry, fluff the fur with your fingers or a baby's hairbrush. Items that contain anything hard inside for stuffing can be surface-washed using a damp washcloth and a very small bit of detergent. To avoid potential allergic reactions, use perfume- and dye-free laundry detergent and never donate stuffed toys that have been exposed to cigarette, pipe, cigar or marijuana smoke.
Going National
If the stuffed animals have been sitting around for a while but still are new, have their tags and were just for display, wash them to get off the dust and donate them in December to Toys for Tots or another similar program. This program is national, with drop-boxes throughout the United States. Locations can be looked up by state on the official website. Stuffed Animals for Emergencies, Inc. is a group that accepts stuffed animals in "like-new" condition. It provides toys to children who are dealing with emergency traumatic situations such as homelessness, neglect and abuse. As it is run by volunteers, drop-off locations across the country are very limited, but you also can mail donations. The Salvation Army also accepts clean stuffed animals in good condition; however, the organization may choose to sell the toys at one of its thrift stores as opposed to handing them directly to children.
Giving a Little Something Extra
Create a gift basket or small care package for local donations. Dollar stores are inexpensive places to purchase a basket and one or two additional items such as a puzzle, book or stickers to include with a stuffed animal. The gift baskets may be donated to a local hospital's pediatric wing to help keep patients entertained and distracted.
Looking Locally
If you are donating a stuffed animal to a hospital's infant care unit, make sure it is age-appropriate and does not contain small parts such as plastic eyes. Community centers, religious institutions and public preschools may use your stuffed animals as in-house playthings or they may pass them to children in the community who need a "friend." If you only have a few toys, collect more from family, friends and neighbors, clean them, pack them in a box and take them to a homeless or domestic-abuse shelter.
References
Writer Bio
Sheila Smith is a copy editor and writer with more than nine years of experience editing and writing for international media syndicate Tribune Media. Additional clients have included Times Union and Edgenuity. She has been involved with several nonprofit organizations, provided etiquette instruction for cultural and religious events and has experience in event planning.