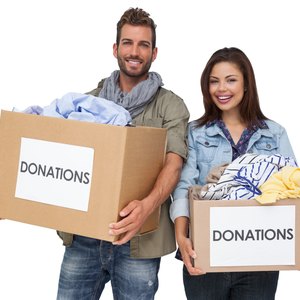 •••
Wavebreakmedia Ltd/Wavebreak Media/Getty Images
Making donations to Goodwill often means dropping off your items at a Goodwill store, donation center or donation bin location. Some areas offer pick-up services for large donations. All items should be new or gently used and in clean, working condition. Include all extra pieces, such as screws and other hardware, so the item is ready to sell at a Goodwill store.
Household Donations
Goodwill accepts many household items including clothing, toys, furniture, electronics, small appliances, kitchen gadgets and decorations. Check with the U.S. Consumer Products Safety Commission for possible recalls or other potential safety problems with the items you plan to donate. Goodwill doesn't accept recalled items or those that don't meet current safety standards. Some locations accept computers and others might not, so call the donation center before taking your computer.
After bagging or boxing up your items, carry them to a Goodwill donation location. Many have staff available to help you unload your items and provide you with a tax receipt.
Vehicle Donations
If it gets you from one place to another -- or used to -- Goodwill likely accepts it as a donation. This includes cars, trucks, vans and RVs. They also accept marine vehicles such as boats -- from small boats to yachts -- and personal watercraft. Other items include snowmobiles, all-terrain vehicles and private, non-commercial airplanes.
The vehicles don't need to be working to be donated; Goodwill can pick them up. Call your local donation center to schedule a pick up.
What Not to Donate
In addition to recalled items and those that don't meet safety standards, Goodwill doesn't accept chemicals and potentially hazardous materials such as pesticides, gasoline and paint, as well as large appliances such as refrigerators and clothes dryers. They don't accept CRT televisions, personal hygiene products, mattresses and carpet. Goodwill doesn't take weapons, cribs or building materials.
If you're unsure whether your item is acceptable, call your local donation center for more information.
Donation Receipts
Although donating your items allows Goodwill to help more people in your community, it also helps you at tax time. Keep a list of the items you donate and ask for a tax receipt when you make the donation. The tax receipt shows the time and date of the donation, but not the items; it's up to you to list the items and estimate their value, which is usually based on the item's condition. New items are worth more than used ones.
In general, Goodwill recommends you estimate the value of your donations at 30 percent of the original price. Ask your accountant to help you estimate the donation value correctly.
References
Resources
Writer Bio
Based outside Atlanta, Ga., Shala Munroe has been writing and copy editing since 1995. Beginning her career at newspapers such as the "Marietta Daily Journal" and the "Atlanta Business Chronicle," she most recently worked in communications and management for several nonprofit organizations before purchasing a flower shop in 2006. She earned a BA in communications from Jacksonville State University.