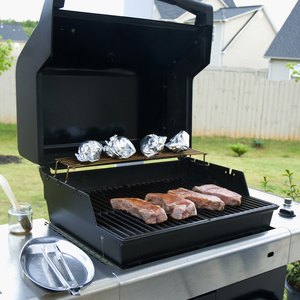 •••
HPW/iStock/Getty Images
Used gas grills contain hazardous components such as propane tanks, sharp metal, deteriorated hoses and batteries that make them undesirable donations to some charitable organizations; Goodwill, for example, doesn't accept used gas grills. If you have a used one, you have some options to pass it on safely to a charitable organization for a good cause. Any donation must be clean and in working order.
Make Community Contacts
Every charitable organization has unique needs, so some might be interested in receiving a used gas grill even if others may not. Research nonprofits in your area; nonprofit culinary schools and food-preparation organizations might be interested in receiving a used gas grill. A person in charge of equipment may ask to inspect the grill before agreeing to accept it. Once you identify a charitable organization that will accept the grill, confirm the organization's safety guidelines and remove any hazardous components requested before dropping it off or arranging pickup.
Alternatives
If you don't have a gas grill but would like to donate one to charity, donate funds and allow the organization to arrange the purchase of a new one. Consider donating a used gas grill to a charitable organization that recycles components such as metal and plastic.
References
Writer Bio
Maya Black has been covering business, food, travel, cultural topics and decorating since 1992. She has bachelor's degree in art and a master's degree in cultural studies from University of Texas, a culinary arts certificate and a real estate license. Her articles appear in magazines such as Virginia Living and Albemarle.