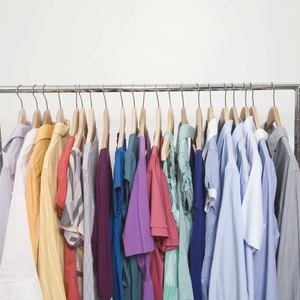 •••
Jupiterimages/Brand X Pictures/Getty Images
In the professional world, presentation matters. For women about to enter the work force after a time of difficulty, acquiring the appropriate clothing can be a challenge. In response to this need, organizations have emerged to provide women with suits, pants, blouses and other business attire. If you have an extra suit in your closet that you simply never wear, donating it to a worthy cause can make a great difference in somebody's life.
Find an organization that specializes in providing disadvantaged women with business attire, shoes and accessories. Two popular organizations include Dress for Success and The Women's Alliance.
Read your chosen organization's clothing guidelines. In general, business attire should be new or very gently used with no flaws, clean, in-style and wearable year-round. Shoes and accessories should also be in excellent condition. Examine your clothing carefully to make sure that it meets the organization's guidelines. Because of the need for specific items, the organization may temporarily restrict donations to certain colors, sizes or types of clothing.
Check to see whether your chosen organization has a chapter near you. You can drop off your clothing at your local chapter. In addition, many organizations hold suit drives and events. Hang your clothing donation on a coat hanger. Do not fold your donation or place it into a bag. Know that if you wish to donate a large lot of clothing, you may need to call in advance.
References
Resources
Writer Bio
Sophie Levant is a freelance writer based in Michigan. Having attended Michigan State University, her interests include history classical music, travel, and the German language. Her work has been published at eHow and Travels.