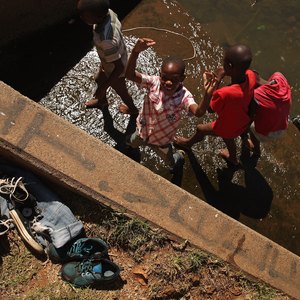 •••
Chip Somodevilla/Getty Images News/Getty Images
The images from Africa on your television screen can be heart-wrenching: children suffering from hunger, disease and malnutrition; families in overcrowded refugee camps, dislocated from their homes because of war or natural disasters; and abandoned children in one of the many AIDS orphanages. One need these children all share is for clean, weather-appropriate clothing. Whether you collect and send used clothing via aid organizations or missionaries or donate funds for such groups to purchase clothing locally, you can easily provide clothing to children in need in Africa.
International Charities
•••
Chip Somodevilla/Getty Images News/Getty Images
International aid organizations with established overseas programs often collect new and gently used clothing to provide to children in need. The Red Cross, Humana and Planet Aid collect via clothing drop boxes and clothing drives throughout the United States. They identify areas where the need is greatest and oversee the shipment of the donated clothing. Such groups also sponsor targeted clothing drives following natural disasters or in support of people displaced by war or other crises. Faith-based groups such as the United Methodist Church's disaster relief organization also run drives following natural disasters to collect clothing and other items.
Sponsor a Child
•••
Chip Somodevilla/Getty Images News/Getty Images
Organizations such as World Vision provide opportunities for individuals or groups to sponsor a needy child in countries in Africa and other parts of the world. As part of the sponsorship arrangement, you can send care packages to your sponsored child, including clothing; the organization keeps you up to date on the child's size and needs. In addition, a portion of your sponsorship payment is used to purchase clothing locally for the children as needs arise. Groups may also provide support, including clothing and school supplies, for children in an orphanage or school in Africa through faith-based mission organizations.
Sewing Options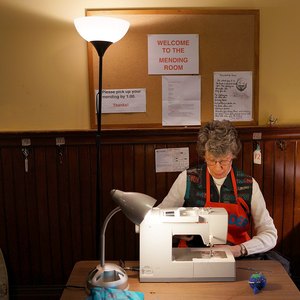 •••
Chip Somodevilla/Getty Images News/Getty Images
A church group or Scout troop looking for a worthwhile charitable activity might choose to make clothes to donate to children in Africa and elsewhere. Organizations such as Little Dresses for Africa provide instructions on making simple dresses from pillowcases, along with a basic boys' shorts pattern. The group serves as a distribution center for the dresses made by individuals and groups all over the United States. The dresses they receive are shipped to charitable organizations in Africa and around the world, where they are then distributed to children in need. The group also sends dresses with missionaries traveling to other countries.
Local Markets
•••
Chip Somodevilla/Getty Images News/Getty Images
One of the potential challenges with sending donated clothing to Africa is that the practice can negatively affect local markets, according to Gordon Frazier, a Canadian expert on the subject. In his landmark study, "Used Clothing Donations and Apparel Production in Africa," Frazier discusses how the textile industry in Africa has the potential to provide employment opportunities and goods for local markets, but the influx of donated cheap or used clothing undercuts such benefits. In lieu of gathering and sending actual clothing, groups can hold fundraisers, then send the proceeds to an international organization that will use it to purchase locally made clothing. Such groups also accept monetary donations from individuals, either as one-time gifts or recurring pledges, which the donor can designate be used specifically to purchase locally produced clothing.
References
Writer Bio
As a national security analyst for the U.S. government, Molly Thompson wrote extensively for classified USG publications. Thompson established and runs a strategic analysis company, is a professional genealogist and participates in numerous community organizations.Thompson holds degrees from Wellesley and Georgetown in psychology, political science and international relations.