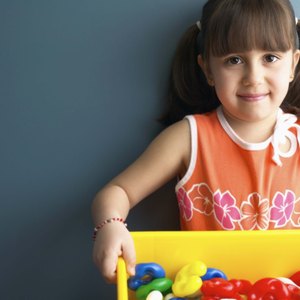 •••
Jupiterimages/Stockbyte/Getty Images
Cash-strapped families struggling to make ends meet often lack the extra funds for toys. Giving new and gently used toys -- whether it's a teddy bear, a bedtime book or a toy truck -- to a child in need can make a big difference in that child's life. It's easier than ever to donate toys to your favorite charity, whether it's for a holiday drive or during spring cleaning. Most charities have year-round toy drop-off points, while others offer toy pickups.
Get Others Involved
Children often grow out of their toys or have toys that they rarely use, so people you know may have toys at home that a child in need would love to have. Talk to your neighbors, friends and coworkers and ask if they're interested in donating toys. By doing this, you can donate more toys at once to a worthy organization. Take down the names of people who want to donate, and request that they donate gently used or new toys. Give everyone about two weeks to gather toys for donation.
Do Inventory and Quality Control
Complete an inventory of the toys you collect from friends, as well as the toys you plan to donate yourself. Board games, dolls, coloring books, toy cars, planes, boats and sporting goods are all good options. Check the toys to make sure they are in working order and lightly used. Put damaged or excessively used toys in a reject pile. Make sure all the toys you're donating are non-toxic and safe. Avoid toys with lots of small parts or pieces, soiled toys, toys geared toward violence and plush stuffed toys, which could be infected with critters such as bed bugs.
Find a Charity
Head to the Internet or call around to find a charity that accepts toy donations. Check with your local church charities and local shelters, as they might be in need of children's toys. In addition, many children's hospitals accept toy donations. Hospitals have additional considerations for what's allowed, so call ahead of time to find out the guidelines. For example, hospitals only accept new toys and may restrict fabric toys because germs are a concern.
Pack and Deliver
Gather all the toys that made the cut and begin sorting them by category, such as sporting goods, arts and crafts, educational, dolls and so on. This way you can put each category of toys in its own box and label the boxes to keep things organized. Once all the sorting and packing is complete, tape the boxes shut. When you're ready, contact the designated organization and schedule a donation drop off or ask the organization to pick it up, if they offer that service.