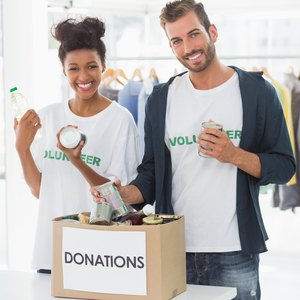 •••
Wavebreakmedia Ltd/Wavebreak Media/Getty Images
Since children often are the recipients of stuffed animals, make sure any Beanie Babies you donate are free of dirt, dust, dander and pollen to avoid allergic reactions. Choose an appropriate charity since some charities do not have direct ties to children.
Prepare the Stuffed Ones
Beanie Babies are surface washable; do not put them in the washing machine. Use a damp, white washcloth to thoroughly wipe down the toy, and remove as much dust and dirt as possible. If your Beanie Babies are not used, wipe them down regardless to remove dust and dander. Add a small amount of gentle laundry detergent to a different white washcloth, then gently clean the toy again. Next, wipe off the Beanie Baby using the first wet washcloth. Do not donate dirty Beanie Babies or those that have been around smokers.
Send Them Packing
Charities such as the Salvation Army and Goodwill likely will sell the Beanie Babies and use the money for other charitable causes. If you want your stuffed animals to go directly to children, consider donating them to a homeless shelter that houses families, or to a domestic-abuse shelter, children's home, the pediatric wing of a local hospital or social services. If the Beanie Babies have never been used and still have the tags on them, hold onto them until the holiday season, at which point you may donate them to Toys for Tots.
References
Resources
Writer Bio
Sheila Smith is a copy editor and writer with more than nine years of experience editing and writing for international media syndicate Tribune Media. Additional clients have included Times Union and Edgenuity. She has been involved with several nonprofit organizations, provided etiquette instruction for cultural and religious events and has experience in event planning.