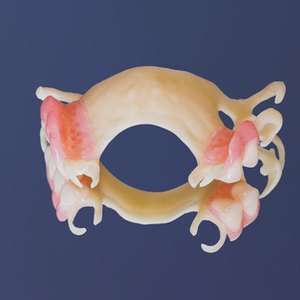 •••
acetal denture image by Mirek Hejnicki from Fotolia.com
Medicaid is a federal program geared toward helping low-income people pay for medical services. Although it's federally administered, each state has its own version, with its own specific coverages and guidelines. If you've asked, "Will Medicaid pay for dentures?" the answer depends on where you live. Even if it isn't covered, though, you may be able to get help through grants for dentures and other resources.
Will Medicaid Pay for Dentures?
Dentures for low-income residents are covered by Medicaid in 37 states. If you live in the following states, they aren't covered: Alabama, Arizona, Colorado, Delaware, Georgia, Hawaii, Illinois, Kansas, Kentucky, Maryland, Mississippi, New Hampshire, Oklahoma, South Carolina, Tennessee, Vermont, Virginia, West Virginia or Puerto Rico. However, even in states where they're covered, there are limits. In California, for instance, Medicaid will pay for one denture every five years or one reline per year, with coverage limited to pregnant or institutionalized adults.
If your denture needs aren't covered, though, there are other options. If you qualify, you may be eligible for grants for dentures. The American Academy of Cosmetic Dentistry hosts the Give Back a Smile program, which helps victims of domestic abuse who have experienced dental injuries due to their situation. The Dental Lifeline Network offers assistance to low-income patients who have a permanent disability, are age 65 or older or are medically fragile. You may also be able to find reduced-cost dental care through a dental school or local clinic.
Coverage for Dental Implants
Even if the answer to, "Will Medicaid pay for dentures?" is no, you may next investigate the possibility of getting implants. These can average between $1,500-$6,000 per tooth, so if you're on Medicaid, coverage is essential. Unfortunately, Medicaid doesn't pay for any basic dental services – not even exams, cleanings or fillings. You'll also find Medicare's coverage very limited. Medicare is the federal program providing insurance coverage to the same group eligible for Medicaid. The only time Medicare will cover your dental procedures is if they're related to a Medicare-covered health issue, such as the exam that is required before heart valve replacement surgery.
Similar to getting grants for dentures, you can also find grants for implants. The cosmetic dentistry grant program provides funding to volunteer dentists for dental implant procedures. To qualify, though, you'll need to have sufficient oral health for the procedure. You may also be able to get assistance through the Children's Health Insurance Program, which provides health coverage for children.
Medicare Advantage and Dental Coverage
Dentures for low-income patients may not be covered by basic Medicare, but you may be able to get coverage if you have Medicare Advantage. This is also known as Medicare Part C, and its coverage varies from one area to the next. With Medicare Advantage, you get your benefits through a private insurer, but it includes the benefits you'd have covered under Medicare Parts A and B. You'll have to pay a premium for Medicare Advantage, which is a charge in addition to any premiums you're paying for your other Medicare coverage. Before you sign up with a provider, though, make sure it covers the dental services you're hoping to have covered.
In addition to dentures for low-income members, Medicare Advantage may cover other services that aren't part of standard Medicare coverage. This includes vision care and routine prescription drugs. Another option, if you don't find that Medicare Advantage works for your budget: you can also look into local dentists that offer something called a dental discount plan. With this service, you pay a monthly fee in exchange for a certain number of free or discounted dental services per year. Plans can vary dramatically from one area to another, and you can find similar plans through some insurance companies, so shop around before settling on one if you go this route.
References
Writer Bio
Stephanie Faris has written about finance for entrepreneurs and marketing firms since 2013. She spent nearly a year as a ghostwriter for a credit card processing service and has ghostwritten about finance for numerous marketing firms and entrepreneurs. Her work has appeared on The Motley Fool, MoneyGeek, Ecommerce Insiders, GoBankingRates, and ThriveBy30.