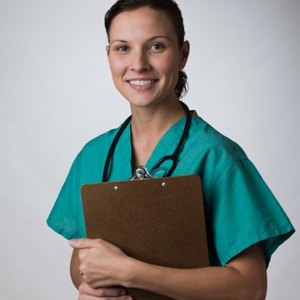 •••
Jupiterimages/Comstock/Getty Images
The path to becoming an anesthesiologist is long and hard, but the rewards are great. Anesthesiologists are medical doctors who specialize in anesthesiology. Typically, becoming a licensed physician requires eight years of formal education beyond high school, and an additional three to eight years for an internship and residency.
Duties of an Anesthesiologist
According to the Bureau of Labor Statistics, anesthesiologists care for patients during surgery. They monitor vital life functions, such as heart rate, blood pressure and breathing, throughout the procedure. In addition, the anesthesiologist provides pain relief to patients after surgery, and during labor and delivery, as well as to those who are in the intensive care unit of a hospital. Patients also can seek the help of an anesthesiologist for the relief of chronic pain. The anesthesiologist discusses appropriate treatments and procedures for patients during surgery with surgeons and other physicians involved in the patient's care.
Undergraduate Courses
Students beginning their education for a medical career in anesthesiology are aware that admission to medical school is highly competitive. A minimum of three years of undergraduate study is required for admission, but most students complete a four-year undergraduate bachelor's degree with a major in premedicine. Coursework for premedical students includes studies in the fields of biology, organic and inorganic chemistry, physics and mathematics. Premedical students also study topics in the humanities and social sciences, and many volunteer at clinics and hospitals to gain practical experience in the real world.
Admission to Medical School
Aspiring anesthesiologists who apply to medical school typically hold an undergraduate degree, and many hold more advanced degrees. Medical schools are accredited by the Liaison Committee on Medical Education (LCME) for M.D. educational programs. To be admitted to medical school, the applicant must take the Medical College Admission Test, and supply transcripts and letters of recommendation. The admission committee generally will interview applicants and assess his or her personality, character and leadership qualities.The committee also will take community service, jobs and other extracurricular activities into consideration.
Medical School
Once the student is accepted to medical school, he or she spends the first two years taking classes and gaining laboratory experience. Coursework allows the student to gain knowledge in areas, such as anatomy, physiology and pathology. In addition, students learn about medical ethics and the laws that govern the practice of medicine. The last two years are spent working with patients. Students are supervised by more experienced physicians, and learn to treat patients with acute, chronic and rehabilitative issues. The student then goes through rotations in various fields of medicine, such as surgery, obstetrics and pediatrics.
Residency and Fellowship
After completing medical school, the M. D. receives graduate medical education in a residency at a hospital. Residents at University of Medicine & Dentistry of New Jersey gain technical skills in the operating room and learn critical care medicine. In the second year residents complete rotations in such areas as neuroanesthesia, cardiac, obstetrics and pediatrics. They use fiberoptic intubations and invasive monitoring in the operating room. In the third year residents pursue areas of interest within anesthesiology. Residents may then go on to study a specialized area of anesthesiology during a fellowship. Areas of specialization include critical care, pain medicine, research and education.
References
Writer Bio
Sharon Penn is a writer based in South Florida. A professional writer since 1981, she has created numerous materials for a Princeton advertising agency. Her articles have appeared in "Golf Journal" and on industry blogs. Penn has traveled extensively, is an avid golfer and is eager to share her interests with her readers. She holds a Master of Science in Education.