How Do Stock Exchanges Make Money?
by Francesca Lee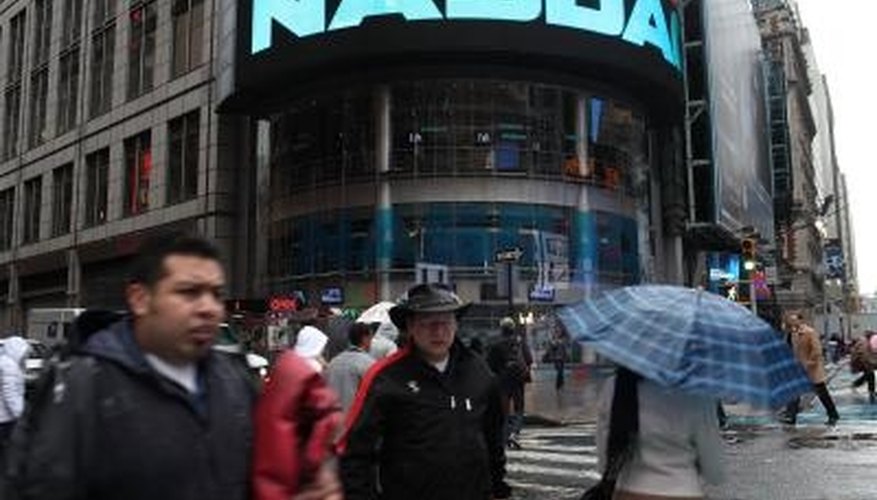 Ask someone about Wall Street and they will probably point to the New York Stock Exchange --- the Big Board. Operated by NYSE Euronext, the ritual opening and closing bells frame daily trading volume of over 1.5 billion shares among 12 exchanges in six countries. But it's not the only game in town. As of March 2011, the Securities and Exchange Commission records a total of 14 exchanges registered, including the Nasdaq Stock Market, the largest electronic trading system in the country, moving about two billion shares daily. Like any business, a stock exchange provides services and products to produce revenue.
Transaction Costs
Transaction costs provide the lion's share of earnings. Every time you buy or sell any type of security, the fees for the transaction pass from the exchange to your broker to you. Multiply this by millions of trades each day and you have an idea of how the stock exchanges make a profit on transaction costs. As an example, the NYSE generated 71 percent and the Nasdaq 84 percent of revenue from transaction fees in 2010, according to a February 2011 report by Standard & Poor's.
Listing Fees
The initial cost to become a company listed on the NYSE can run up to $250,000 -- that's just to get listed. Companies also pay annual fees, capped at $500,000 per year and based on the number of shares listed. To join the Nasdaq Global Market, companies must set aside between $125,000 and $225,000, with annual fees between $35,000 and $99,500. These fees account for about 10 percent of NYSE's revenue and 11 percent of Nasdaq's. As of March 2011, the NYSE listed over 3,100 companies and the Nasdaq 3,200.
Market Data
When you watch the price of a stock or index change second by second on a website or the charting software from your broker or a television news program, the exchanges make money. Real-time data feeds to financial websites, broker firms and individual traders don't come cheap. NYSE charges up to $100,000 per month for real-time data feed products. Nasdaq also has a division to service clients' needs for data with products that can tip into several thousand each month.
Technology Services
With computers handling the majority of trades today, the physical floor seems like a fond relic from the past. Exchanges provide technology services, a broad umbrella category that includes infrastructure products for clients, such as software, trading applications and platforms for banks and clearinghouses. These services account for a fraction of the total revenue: 7 percent for the NYSE and 5 percent for Nasdaq.
Photo Credits
Spencer Platt/Getty Images News/Getty Images
Cite this Article
Choose Citation Style
Lee, Francesca. "How Do Stock Exchanges Make Money?" Pocket Sense, https://pocketsense.com/do-stock-exchanges-make-money-8182933.html. Accessed 14 December 2018.
Lee, Francesca. (n.d.). How Do Stock Exchanges Make Money? Pocket Sense. Retrieved from https://pocketsense.com/do-stock-exchanges-make-money-8182933.html
Lee, Francesca. "How Do Stock Exchanges Make Money?" accessed December 14, 2018. https://pocketsense.com/do-stock-exchanges-make-money-8182933.html
Note: Depending on which text editor you're pasting into, you might have to add the italics to the site name.