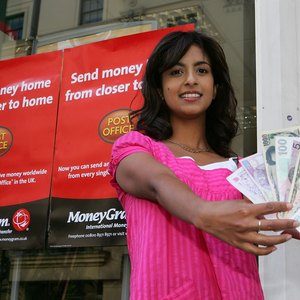 •••
Cate Gillon/Getty Images Entertainment/Getty Images
Moneygram offers money orders, bill payment, money transfers, and other services at retail locations around the world. Transfers can be made in person or online, and funds are quickly available to the recipient upon presentation of I.D.
Reference Number
Obtaining the reference number given to the sender will speed up the process when picking up your money.
Identification
You will need to present at least one form of identification, including passport or national I.D. card, driver's license, or state I.D. card.
Moneygram Locations
Check the Moneygram website for locations where you can pick up your money.
'Receive' Form
Moneygram requires you to fill out its "receive" form before you can get your money.
Payment
Payment is usually made in cash, in U.S. dollars or the local currency where the money is received. At some locations, payout may be made in traveler's checks, Moneygram money transfer checks, or money orders.
Time Frame
Funds are usually available within 10 minutes of being sent.
References
Writer Bio
Stacy Calvert is a freelance writer specializing in online content. Her work has been published at numerous websites, specializing in travel, personal finance, vegetarian foods, alternative medicine, entertainment and personal style. She received a Bachelor of Arts degree in English studies from Illinois State University, with an emphasis on English literature.