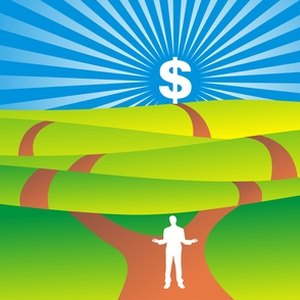 There are two primary schools of thought when it comes to investment analysis: fundamental and technical. Technical analysis looks at the best time to purchase a stock by charting price movements over time. Fundamental analysis looks at the actual performance and value of the stock by analyzing data from company financial statements. This helps investors determine which stocks are over- or undervalued. Two of the most powerful fundamental-analysis measures are return on assets and return on equity.
Download or request a hard copy of the company's annual report. Read over the management's discussion and analysis section.
Determine the company's net income. You can find this on the net income statement. Let's say net income is $100,000.
Determine stockholders' equity, which is on the balance sheet. Let's say stockholders' equity is $60,000.
Determine total assets. This can be found on the balance sheet as well. Let's say total assets are $50,000.
Determine ROA (return on assets). Divide net income by total assets. In this example, the calculation is: $100,000 / $50,000 = 2. When compared with other companies' ROA, this percentage gives an idea of how efficient management is at using assets to produce net income. In general, the higher the figure, the better the company.
Determine ROE (return on equity). ROE is net income divided by stockholders' equity. In this example, the calculation is $100,000 / $60,000 = 0.166666667, or 1.67 percent. ROE tells investors how much profit a company generates with shareholder funds. In general, the higher the ROE, the better the investment.
References
Writer Bio
Working as a full-time freelance writer/editor for the past two years, Bradley James Bryant has over 1500 publications on eHow, LIVESTRONG.com and other sites. She has worked for JPMorganChase, SunTrust Investment Bank, Intel Corporation and Harvard University. Bryant has a Master of Business Administration with a concentration in finance from Florida A&M University.