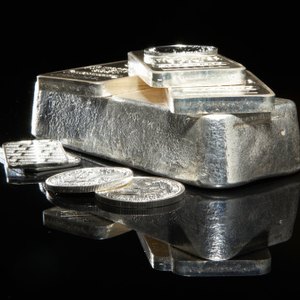 •••
Thomas Northcut/Photodisc/Getty Images
Silver comes in bars, coins, jewelry or other forms. If you have silver you no longer want, you should shop around for the best dealer that fits your silver-selling needs and will give you a fair deal. Some dealers specialize in large purchases, others specialize in coins and some specialize in jewelry.
Exchange Rate
Before you decide on a dealer, you need to make sure you are receiving a fair deal. You can use the Coin Mill website to get the exchange rate on silver (see Resource). You may not get that exact rate, but you can decide what is a fair rate based on the exchange rate.
American Precious Metals Exchange (APMEX)
APMEX is an online and over-the-phone buyer and seller of precious metals. To sell your silver to APMEX, open an account online. Then look on the "top 40 best sellers" list to see if anything you are selling is on that list. If it is, you already will know the selling price for that item. After that, call APMEX and negotiate the terms of your exchange, then ship your items to the company. APMEX deals only with customers whose transactions exceed $1,000. If you have only a small amount of silver, you may need to go to another dealer, according to APMEX.
Cash4Gold
Cash4Gold deals with customers who have a small amount of silver to sell. If you want to sell to Cash4Gold, call or go online and request a jewelry pack from the company. Once you receive your jewelry pack, fill it (it is insured up to $500) with your silver and send it in to Cash4Gold. You will not know how much money you are going to receive from Cash4Gold until your check comes within "days." If you are not satisfied with the amount, you can return the check within 12 days and your silver will be returned to you, according to Cash4Gold.
Express Gold Cash
Express Gold Cash is a similar concept to Cash4Gold. You can see on the Express Gold Cash website that it tries to make its customers feel more secure by insuring the jewelry pack for $1,000, publishing its exchange rates, allowing you 30 days to return the check if you are not satisfied and giving a check for $20 to unsatisfied customers.
The New York Gold and Silver Exchange
You can sell your silver to the New York Gold and Silver Exchange by going to one of its Texas locations in Dallas or Fort Worth, or in New York City. Or you can mail in your silver. Once it receives your items, they place them into an assaying machine that is calibrated yearly. After that, you discuss price with a trader and receive your money (cash, company check or wire transfer). This company deals primarily with the sale of silver jewelry items.
References
Writer Bio
E.M. Rawes is a professional writer specializing in business, finance, mathematical and social sciences topics. She completed her studies at the University of Maryland, where she earned her Bachelor of Science. During her time working in workforce management and as a financial analyst, she reinforced her business and financial know-how.