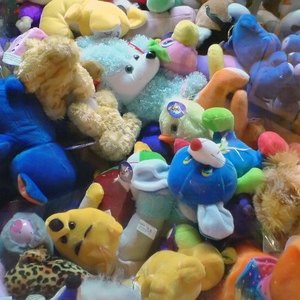 Few things are more rewarding or satisfying than donating your used toys to needy children in Africa. According to Food4Africa, one in six children die before the age of five in Africa. Toys help bring happiness and excitement to children in low-income families. Donating your toys through an established non-profit charity organization is a must if you want to provide joy and excitement to needy children throughout the African continent.
Locate an established charity organization, like Riley's Toys Foundation or UNICEF, that accepts toys and actively donates those toys to children in Africa. The Riley's Toys Foundation has shipped and donated more than 3,500 toys to children in Africa, according to the official Riley's Toys Foundation website.
Sort through the toys you're willing to donate and separate the damaged, ragged and worn toys from the best. Throw all damaged toys away. Toys that are in a damaged condition, no matter how minor, are not accepted by charity organizations.
Clean each remaining toy with a lightly dampened rag to remove any dirt or grit visible on the toys.
Place the toys in durable plastic bags. Prevent the toys from spilling out of the bag by tying each bag tightly and securely.
Drop the toys off at your nearest donation bin or drop-off location. If there isn't a drop-off location or donation bin near your home, ship the toys directly to the charity organizations official address.
Refrain from donating toy guns, swords or any other weapon based toy, as these types of toys are usually frowned upon by society in general.
Shipping the toys to the charity organizations official address can cost quite a bit upfront.