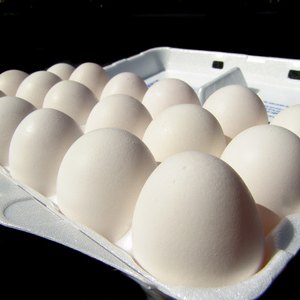 Some people think coupons are not worth the bother. Clipping and tracking coupons is too time-consuming just to save a quarter on a box of expensive cereal, right? Other people look for coupons eagerly, and clip them with all the excitement of opening birthday gifts because they know, when used properly, those coupons can get them free groceries -- and there is nothing illegal or immoral about it.
Coupons
Collect coupons from as many sources as you can. Some people buy five to ten copies of the Sunday paper so they can have multiple copies of all the coupons when they're released. Other people get coupons from friends and neighbors who don't want them, trade with other coupon collectors or pay a coupon-clipping service to send them regularly. Even seemingly small-value coupons can sometimes get you free groceries when used with other methods, so collecting coupons for products you might use is an important first step.
Sales Ads
Watch all sales ads and fliers that are released by your local stores. Most stores release their own coupons regularly, and those can be used in conjunction with the manufacturers' coupons that are released in newspapers and magazines. Combining sales prices with a store coupon and a manufacturer coupon is one of the most common ways to get free groceries with coupons.
Store Cards
Sign up for free store cards in your area. Some stores call it a membership card, others call it a VIP or loyalty card -- regardless of the name, store loyalty cards allow you to get special discounts and sale prices. At some stores, holders of the loyalty cards are eligible for bonuses on coupons as well. Some stores will double the value of a manufacturer coupon and other stores make all manufacturer coupons worth at least $1. So, if you have a $0.25 coupon for cereal, for example, you could get $1 off instead.
Receipts
Many drugstores and grocery stores give additional rewards when you make certain purchases. These rewards print with your sales receipt when you finish paying for your purchases. Sometimes additional coupons will print and sometimes cash bonuses will print. You may get a register reward for $5 off your next store purchase, for example, and since there is no purchase required to redeem these rewards, they can be an excellent source of free groceries.
Stacking
Putting all of the pieces together, or "stacking," is where you can really cash in on savings. If you see a local store has brownie mix on sale for $0.99 and you have a coupon for $0.30 off, plus that store makes your coupon worth $1, then you get the brownie mix for free. If you have five coupons you may get five boxes free if there isn't a limit on how many you can get at the sale price. You can also use multiple discounts on the same item in some cases. If boxed potatoes are on sale for $1.99 and there is a store coupon for $0.49, plus you have a manufacturer coupon for $0.50 and a register reward of $1 off, you can stack all of those discounts together and get those potatoes at no out-of-pocket cost.
References
Writer Bio
Kathy Burns-Millyard has been a professional writer since 1997. Originally specializing in business, technology, environment and health topics, Burns now focuses on home, garden and hobby interest articles. Her garden work has appeared on GardenGuides.com and other publications. She enjoys practicing Permaculture in her home garden near Tucson, Ariz.