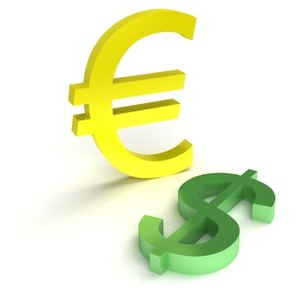 •••
Green dollar and yellow euro image by Stepanov from Fotolia.com
The euro is the official currency of 16 European countries and will increase to 18 by 2012. It is the second most traded currency in the world, after the U.S. dollar. Although electronic transfers between currencies are the main way the euro and dollar are traded, there are many checks issued in euros. If you get one, you need to know how to cash a check in euros at a U.S. bank. Two costs are associated with cashing a euro check at a U.S. bank: currency exchange and bank administration fees. The most cost effective way to cash a euro check is using a bank.
Contact your bank and ask the cost, timing and way to cash a euro check. Make a note of the information and then get comparisons from a couple of other banks, as charges and timescales may vary.
Select the U.S. bank that offers the best deal to suit your personal requirements. You may want your euro check cashed quickly and are willing to pay more, or maybe time is not an issue, but costs are.
Check the rate of exchange between the euro and dollar so you have an idea of the dollars you will get once you cash your euro check. Rates of exchange fluctuate daily so the amount will only be approximate. Get the exchange rate from a newspaper, online or by calling a U.S. bank.
Visit the bank. If you are not using your own bank, you will need ID with your signature and proof of address. Give your euro check to the cashier and get confirmation of the administration cost to cash the check. Costs are based upon check values.
Ask the cashier what the approximate rate of exchange is; you will get the final rate once your check has been processed. You need to complete a credit slip and sign the reverse of the euro check in front of the cashier so he can confirm your signature.
Ask the cashier the date the money will be available. Expect to wait between 4 to 8 business days. If you are using your own bank, you can have the money paid into your account or choose to collect cash at a later date.