What to Do When You Can't Pay Hospital Bills?
by Jackie Lohrey ; Updated July 27, 2017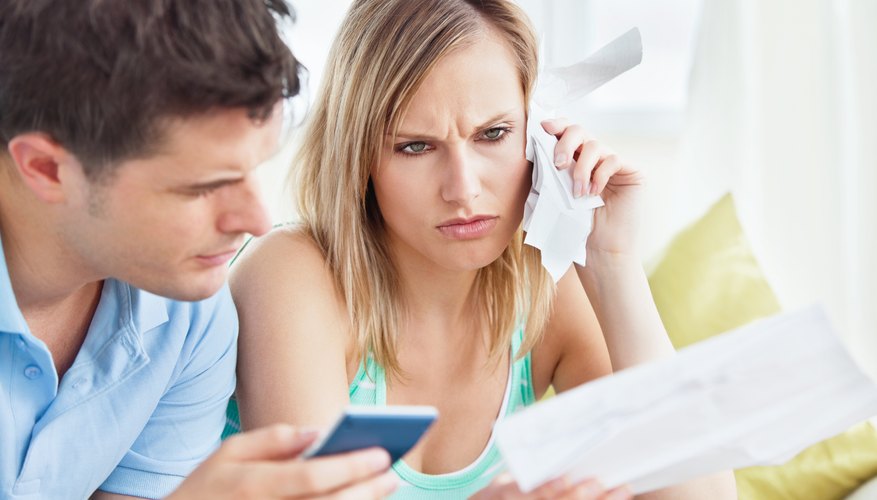 Health care can be costly whether you have health insurance or are uninsured. For those with insurance, high deductibles and expenses that insurance doesn't cover can result in a hospital bill that runs into thousands of dollars. For uninsured people, a hospital bill can be financially crippling. The worst thing you can do is to ignore the situation. There are solutions and resources for paying hospital bills no matter how dire your situation.
Review Your Hospital Bill
Carefully reviewing your hospital bill, as well as state laws and charge data information, may help you reduce the outstanding balance. Hospital bills are notorious for inaccuracies and overcharges. According to Illinois Legal Aid, billing for services you did not receive, duplicate charges and quantity errors are among the most common mistakes. Get an itemized invoice and review every line. Most states have pricing transparency laws that require hospitals publish charge data for common services and procedures. In addition, some state laws, such as the California Hospital Fair Pricing Act and Maryland's Hospital Rate Regulation Law, limit treatment charges for self-pay patients.
Negotiate Discounts and Payment Arrangements
Meet with a billing office representative before your bill goes into collections. Nolo recommends that you pursue one or more of three available options:
Ask for a discount
Work out a written payment arrangement with payments you can afford
Offer to pay 10 percent to 25 percent of the bill and negotiate for a discount on the remainder
Look for Financial Assistance Resources
Look for financial assistance programs that may pay some or all of your hospital bill. Financial assistance programs usually base eligibility on income, assets and family size. Many nonprofit hospitals have financial assistance programs. Contact your state-level or local social service agency to find information about local and state government programs. Check the eligibility requirements for Medicaid or your state's Children's Health Insurance Plan. Although Medicaid may not be helpful in reducing your current hospital bill, it will help with ongoing care.
File Chapter 7 or Chapter 13 Bankruptcy
Research the difference between Chapter 7 and Chapter 13 bankruptcy, including their eligibility requirements. A Chapter 7 bankruptcy eliminates most consumer debt. To qualify, you'll need to pass a Chapter 7 "means" test that evaluates your disposable income in relation to your debt load. A Chapter 13 bankruptcy is a reorganization plan in which you make monthly payments on a portion of all your debt.
Photo Credits
Wavebreakmedia Ltd/Wavebreak Media/Getty Images