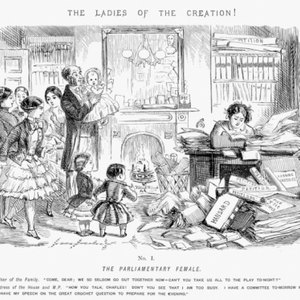 •••
Photos.com/Photos.com/Getty Images
By definition a "displaced homemaker" is an individual who worked without pay for years, caring for a family and home, depending on the income that is no longer available from another family member. This unemployed or underemployed individual often has difficulty finding work due to lack of work skills. Displaced homemaker scholarships offer higher education opportunities to learn new work skills. Sponsors of these scholarships include nonprofit associations and societies, colleges and universities and community service clubs.
Association on American Indian Affairs, SACNAS
The nonprofit Association on American Indian Affairs (AAIA) works in the interests of American Indians and Alaska Natives. AAIA provides undergraduate Displaced Homemaker Scholarships to men and women whose family responsibilities place higher education beyond their financial reach. In the association's definition, "displaced homemaker" means an individual who is 30 years of age or older, entering college for the first time, with children of elementary school age or grown. Applicants must submit an essay and a monthly budget. As of 2011, the scholarship value was $1,500 paid in the sum of $750 per semester, to cover educational costs, childcare, transportation and other living expenses.
Among the sources through which the AAIA Displaced Homemaker Scholarships are available is SACNAS, a nonprofit society of individuals and organizations whose aim is to advance Native Americans and Hispanics/Chicanos in science.
Nicolet College, Wisconsin
Nicolet College in Rhinelander, northern Wisconsin, offers a Displaced Homemaker Scholarship program. The college defines a displaced homemaker as a household member providing unpaid service to the family over many years. Other conditions that apply to the displaced homemaker are that the individual must be unemployed or underemployed, no longer supported by income from another household member on whom the individual depended, no longer eligible for public assistance, and the parent of one or more minor children living on public assistance or spousal support, whose children are two years away from the age of majority. Full particulars of the scholarship and application procedures are available by contacting the Foundation.
University of Akron, Ohio
At the University of Akron in Ohio, 5he Verna Trushel Displaced Homemakers' Scholarship (VTDHS) is for individuals forced to go to work to support themselves and their dependents and who opt for higher education in order to enhance employment prospects. A private donor and ZONTA ABC provide funding for the scholarship. As of 2011, applicants must be enrolled at the university, have 30 completed undergraduate credit hours and maintain a minimum 2.2 GPA.
General Federation of Women's Clubs of Vermont
The General Federation of Women's Clubs of Vermont (GFWCVT) sponsors the Barbara Jean Barker Scholarship for Displaced Homemakers. The award is for women who were primarily homemakers but lost their means of support through death, illness, unemployment or other causes. Applicants must submit a plan for re-education leading to careers in the future. As of 2011, the value of the scholarship was $750.
Community Colleges in Missouri
St. Charles Community College in Cottleville, Missouri, offers a tuition waiver for its Displaced Homemakers Scholarship. Applicants must be U.S. citizens and Missouri residents, enrolled in a vocational program, divorced, separated, widowed or have a disabled spouse, enrolled in a minimum of six credit hours at the college and be in financial need and without an existing scholarship or other financial aid for tuition. At St. Louis Community College, displaced homemakers benefit from scholarships provided through the New Traditions program, which emphasizes empowering displaced homemakers to support their children.
References
Writer Bio
Based in Northern California, Maureen Katemopoulos has been a freelance writer for more than 25 years. Her articles on travel, the arts, cuisine and history have appeared in publications such as "Stanislaus Magazine," "Orientations," "The Asia Magazine" and "The Peninsula Group Magazine." She holds a Baccalaureate degree in journalism from Stanford University.