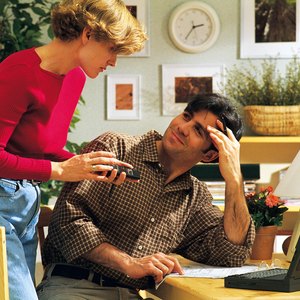 •••
Comstock/Comstock/Getty Images
More than 112 million individuals filed their taxes electronically in 2011 using one of the Internal Revenue Service-approved options: free-file or e-file. Through the IRS website (irs.gov), free-file offers online tax forms that can be filed and links to free tax preparation and filing software. The IRS also accepts e-filed returns prepared by tax professionals and individuals using purchased tax preparation programs. The IRS says filing electronically cuts refund processing time by as much as five weeks.
Advantages
"E-filing is more efficient," said Marsha Smolcic, CPA with Smolcic & Associates of Greensburg, Pennsylvania. "You're more likely to have a mathematically favorable return because a computer's looking at the data." That higher level of accuracy leads to faster return processing. "You get your refund faster -- within three weeks -- and can check to see where it stands in the system by going to 'Where's My Refund' on the irs.gov website," she said.
E-filing efficiency goes beyond speedy refunds, Smolcic added. "Filing electronically cuts down on paper use. It's more environmentally friendly and less cumbersome. Taxpayers avoid maintaining paper files; their encrypted return is sent electronically to them or accessible via the tax preparation site they used. Some preparers even hand them a CD record."
With the shift to e-filing, Smolcic said she notices that taxpayers seem to be more involved with the whole streamlined process of tax preparation. She finds taxpayers also appreciate the added precautions e-filing offers. "Those who use a tax preparer must sign Form 8879, the IRS e-file signature authorization form, before their return can be transmitted. As they are signing this form, final conversations take place to assure them that they were asked appropriate questions and the return is complete."
The enhanced security features of online tax preparation add peace of mind, noted Smolcic, who said the testing performed gives a level of assurance that makes today's users feel comfortable.
Disadvantages
Electronic filing is not for everyone, said Elaine Luther, professor and IRS agent on the business faculty at Point Park University in Pittsburgh. "If you have a complicated return, one with several schedules plus rental property, for example, the software programs available to consumers don't handle it well." That could put a damper on your early refund hopes.
Another significant shortcoming of e-filing in Luther's opinion centers on the taxpayer's reliance on technology instead of an understanding of the tax code. "You can give the wrong answer to the questions asked by the software because you don't understand the reasoning behind them. If you don't answer the right way, you won't get what you're due," she said. "Gray areas" -- situations that are not specifically printed in the instructions -- also make e-filing less beneficial, said the professor. "Unusual circumstances fall into that category of treatment you only get from someone who knows how to aggressively take advantage of the tax code for your situation," she said.
Luther noted that the IRS has increased auditing efforts overall to combat fraud, not necessarily focusing on electronic returns to choose audit candidates. The IRS' success in stopping fraudulent refunds added up to $6.5 billion in 2011, and its acknowledgement that fewer errors on e-returns translate into "a decreased likelihood of hearing from [us]" supports her stance.
Considerations
After more than two decades, electronic filing doesn't appear in danger of losing ground. Taxpayers find it easy to use, appreciate the computer's perfect computations and welcome the chance to shave weeks off of the time needed to process their refunds. By doing their homework and gaining a basic understanding of tax code provisions applicable to their situation, e-filers can avoid misinterpreting the questions used to calculate their tax obligation. Those needing expert advice can still enjoy a prompt refund by turning to a tax professional who prepares and files their return electronically.
References
Resources
Writer Bio
Trudy Brunot began writing in 1992. Her work has appeared in "Quarterly," "Pennsylvania Health & You," "Constructor" and the "Tribune-Review" newspaper. Her domestic and international experience includes human resources, advertising, marketing, product and retail management positions. She holds a master's degree in international business administration from the University of South Carolina.