Direct Deposit vs. Wire Transfer
by Chris Blank ; Updated April 19, 2017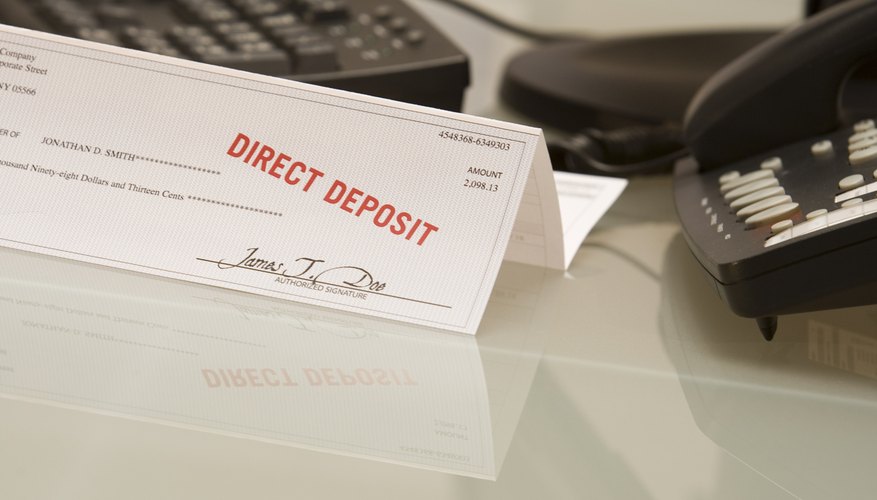 Technology has transformed several aspects of modern life in post-industrial countries. Money and payments are no exception. Electronic transmissions have largely replaced paper checks as a form of payment for both consumer and commercial financial transactions. Although direct deposits and wire transfers are two forms of electronic transactions that share similarities, they serve different functions.
Direct Deposit
Direct deposit refers to electronic payments made directly into the bank account of the recipient. Among the most common types of direct deposits are electronically deposited paychecks transmitted from employers to employees or contractors. The U.S. federal government, along with many state governments, has executed the conversion from issuing paper checks to making payments by direct deposit. Direct deposit eliminates delays caused by postal delivery, and also minimizes the risk of lost or misdirected checks. Another advantage is that most banks post direct deposits immediately, making the funds available for the recipient right away, while deposited paper checks may require several days to clear.
Wire Transfer
Unlike direct deposits, wire transfers often take place between individuals -- a relative sends cash to a grandchild, niece, nephew or family friend located far away. However, banks often require several days to transmit wires transfers, especially if the money is coming from outside the U.S. In addition, most banks charge a fee to send or receive wire transfers for their customers. Commercial wire transfer companies use a proprietary system that allows the transfer of funds more quickly than wire transfers transmitted by banks, taking just minutes or hours instead of days. However, these services nearly always charge a high fee.
International Transactions
If you live in a country that has established an international direct deposit relationship with the U.S., you may receive direct deposit payments into your foreign bank account. Once you have set up the arrangements with your bank, the process works much the same as with domestic direct deposits.
International wire transfers are transmitted through Belgium-based Society for Worldwide Interbank Financial Telecommunication (SWIFT). SWIFT includes more than 9,000 financial institutions located from more than 200 countries worldwide. SWIFT transactions require an international bank account number (IBAN) that allows for automated transmission of funds across international borders. International wire transfers often require several days to process.
Wire Transfer Scams
Many wire transfer operations are actually scams designed to separate victims from their money. The scam artists may request that you deposit a check from them in your bank account, and wire them the cash to cover the check. Other scams involve pleas for money from individuals with whom the victim has formed an online romantic relationship, online "vacation rental" services or sellers who insist on payment by wire transfer. However, a wire transfer is like cash -- once you have initiated the wire transfer, it is nearly impossible to cancel the transaction or to get your money back.
Photo Credits
Comstock Images/Comstock/Getty Images