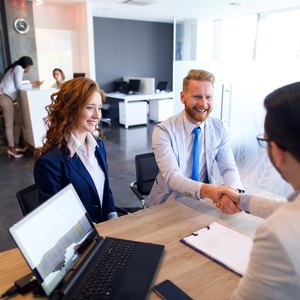 •••
EmirMemedovski/E+/GettyImages
When it comes to banking your money, you have the option of maintaining an account with a bank in the U.S. or in another country – as long as you do your research about requirements and associated risk. You can open an offshore account by mail by providing a certified copy of your passport and proof of address, such as a utility bill or bank statement. The offshore bank may request other references to determine your solvency and integrity. The application process can last from days to a few months.
Concept and Structure
An onshore bank is best exemplified by your typical branch of the bank you maintain your checking or savings account. It operates under the rules and regulations governing all banking institutions in this country. An offshore bank, on the other hand, is located outside the country and is licensed by offshore banking legislation in the foreign jurisdiction that provides financial and legal advantages, including greater privacy, low taxation and protection against the local political and financial environment. Offshore banks will take deposits and investments only from non-resident individuals and businesses.
Types of Offshore Banks
Offshore banks can be classified into two groups. Private banking institutions target high-level investors, requiring account opening deposits of around $100,000. Their personalized and exclusive investment products tend to focus on the wealthy. Retail and commercial banks will typically require an initial deposit of $10,000 or less when you want to open an account. Apart from services similar to those offered by onshore banks, you can operate a multi-currency account that accepts deposits and withdrawals in different currencies. You can also open a multiple-currency account with several account numbers, each denominated in a different currency.
Main Difference
Although offshore banking has a different approach to the banking process with regard to your information, it's the low taxes that draw potential clients. These banks exist in countries with permissive expense law, so that once you make deposits in an interest-earning account, your yields will generally be free of tax. Since offshore banks keep the bank mystery law – your account is associated with a number, not your name – third-party entities like the Internal Revenue Service can't effortlessly access your banking details, unlike onshore accounts.
Advantages of Offshore Banking
Offshore banks can provide several features not generally offered by onshore banks. Besides low or no tax, these banks are typically established in nations with strict bank secrecy and privacy laws. This can give you more freedom when it comes to government regulations regarding capital such as exchange controls. Some banks will offer high-yield investments that are easily accessible. If you prefer a bit of mystery, anonymous credit cards as well as numbered accounts may be right up your alley.
Offshore Banking Risks
Unlike banking onshore where your money is insured by the government, there is no such guarantee with offshore banks. In addition, under the Bank Secrecy Act, you must declare any interest earned in a foreign financial account to the Internal Revenue Service otherwise you'll be non-compliant with the tax code. You risk fines or jail if you don't file an FBAR – Report of Foreign Bank and Financial Accounts – by June 30, if the value of your financial accounts held in offshore banks exceeds $10,000 at any time during the preceding year.
References
Writer Bio
Dr Jack Gordon, the Chief Technology Officer at Strontium Logistics, is a 20-year veteran of the engineering and marketing business who favors stiff drinks, good debates and developing innovative digital marketing strategies to help companies grow.