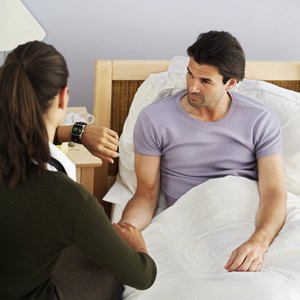 •••
George Doyle/Stockbyte/Getty Images
The choice between major medical and non-major medical health insurance depends on what you can afford and your needs. Major medical offers you protection from serious illness or injury with a variety of services. Non-major plans have limited coverage and focus on specific ailments or treatments, letting you guard against some unexpected incidents or conditions at inexpensive rates.
Major Medical Advantages
Major medical plans cover a wide range of needs, such as hospital, surgical and physician expenses along with many services needed for care. For example, many major medical options include private nursing care, X-ray and lab services, prescription drug costs and ambulance services. Policies also offer medical treatment for serious operations, such as artificial limbs or organs. Major medical insurance might feature coverage for treatment of drug or alcohol abuse and mental health care.
Protection Limits
Non-major medical plans usually refer to basic health care or limited benefit insurance at affordable premiums, the rates you pay monthly, semi-annually or annually for policies. You might have full coverage for hospital or surgical needs under non-major medical plans, but will have lower limits on maximum expenses. The coverage provides 100 percent of the expenses for hospital and surgical care, but the limits with a basic or non-major plan could be as low as $10,000 or up to $100,000. A major difference between the insurance types is that you typically have higher limits for expenses with major medical plans, which could have a maximum of $1 million or more, but you pay a deductible or co-payment with those plans. The deductible or co-payment is the amount you pay before insurance payments kick in, which could be about 20 percent.
Major Medical Types
Indemnity plans offer you flexibility in your major medical insurance coverage. After paying the deductible, you can have about 80 percent of the expenses paid through the plan. Preferred provider organization plans, also called PPOs, provide selected doctors and hospitals for care at discounted rates. You pay a higher rate for doctors and services not listed. Health maintenance organization plans, or HMOs, have primary care physicians you must use. You pay extra or full amounts for doctors outside of the plan. Point of service plans, known as POS, make you choose a primary doctor and will pay if the plan refers you to an outside physician.
Basic Targeted Plans
You can get basic, non-major hospital or surgical coverage with limited benefit plans. The non-major medical plans typically cover at least 30 days for hospital care and some outpatient services. Costs for necessary surgery are covered for at least 21 days of in-hospital care under these plans. Limited benefit plans include specific medical situations, such as plans covering accidents only or insurance coverage for hospital confinement. Plans for specific diseases or disorders can also be purchased.
References
Writer Bio
Jerry Shaw writes for Spice Marketing and LinkBlaze Marketing. His articles have appeared in Gannett and American Media Inc. publications. He is the author of "The Complete Guide to Trust and Estate Management" from Atlantic Publishing.