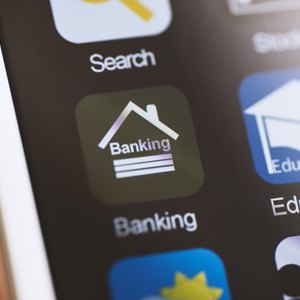 •••
TARIK KIZILKAYA/iStock/GettyImages
You can add money to your Chase checking account using the Chase mobile app, your online account or an ATM. You can also visit a Chase bank or mail in a deposit. Knowing your options for making a Chase online deposit will help you avoid running out of money, bouncing checks or missing payments that can damage your credit.
Set Up Chase Online Banking
Chase welcomes consumers to select and open a bank account online. You can choose the checking or savings account that best suits your needs. Many customers select Total Chase Checking for its balance of costs and benefits, including ways to avoid the monthly service fee and overdraft fees.
When you open a Chase checking account, you can set up online access and perform various important tasks from your computer. In addition to making deposits, you can check your balance, transfer money between linked accounts, set up a direct deposit, make payments and freeze your account, if necessary. You can also order a debit card for your checking account and apply for a credit card.
Visit the Chase website at Chase.com and navigate to the page that lets you enroll in online banking. Follow the directions to enter account information, including your name, street address, account number, Social Security number, phone number linked to your account (when you opened the new account) and other personal identification.
You can learn how to deposit checks online at the Chase QuickDeposit webpage. Scroll down the page and click on "How to Use Chase QuickDeposit" for more detailed instructions.
Download the Chase Mobile App
Virtually all major banks provide apps for mobile devices. As a Chase customer, you can download the Chase mobile banking app and make electronic deposits.
Chase QuickDeposit makes check deposit easy for Chase checking customers: Make a mobile deposit to any of your deposit accounts by scanning the front and back of the check after endorsing it. Just follow these step-by-step directions and your checks will be deposited instantly.
Use an ATM
Using a Chase automated teller machine or one in Chase's network, you can deposit cash or checks into your account up to the permitted deposit limits. You'll need your account banking card and PIN to use Chase ATMs. This video provides step-by-step instructions for making a deposit using an ATM.
Visit a Chase Branch
You can drop into a Chase bank near you and make a deposit. You'll need a deposit slip and your account number. If you have your Chase card, a bank teller can get the information you need to help you fill out a deposit slip.
You'll list the amount of each check you are depositing on the slip and the total amount of the cash you're depositing. You can make withdrawals while depositing checks: Simply write the amount of money you want next to "less cash" on the slip. Your online statement will reflect your ATM activity by the next business day.
Mail a Deposit
You can mail in your deposit by following the directions available on your monthly checking account statement or the Chase website – or by calling the number on the back of your Chase card to speak with a customer service representative.
Prevent theft by placing a piece of paper around your money to prevent it from showing through the envelope. You'll need a deposit slip, which you should have received when you opened your account.
You can use a counter deposit slip if you have one, but you'll need to write your account number on it. Your account number is the second set of numbers at the bottom of your check, to the right of your bank routing number.
References
Tips
1. To take the old fashioned approach, visit a local Chase Bank branch. Though online banking has its perks, personal bankers still have something to offer. Tellers are available Monday-Saturday at most branches.
2. Automated teller machines, or ATMs, are designed to accommodate the busy lives of most online bankers. Checks and cash can be deposited at any hour at one of thousands of ATMs nationwide. Have your debit card ready and know your pin. The machine will guide you through the transaction.
Writer Bio
Steve Milano has written more than 1,000 pieces of personal finance and frugal living articles for dozens of websites, including Motley Fool, Zacks, Bankrate, Quickbooks, SmartyCents, Knew Money, Don't Waste Your Money and Credit Card Ideas, as well as his own websites.