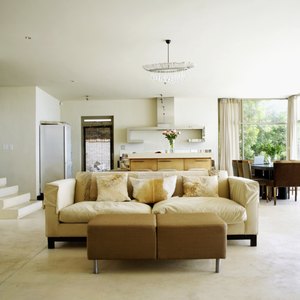 •••
George Doyle/Stockbyte/Getty Images
The split foyer-style house, a stalwart of 1970s design, typically features a front entryway that is between floors and faces a short staircase leading up to a main living level and another going down to a finished lower level that has plenty of natural light. It is a two-floor variation of the split-level, a design that features at least three staggered floors and an entryway that is level with the main floor.
'70s Heyday
In 1975, 12 percent of all new homes were some variation of the split level, reports the National Association of Home Builders. In the Midwest, a whopping 21 percent featured the upstairs-downstairs look that year. Traditionally, the upper level of the split-foyer floor plan contains the main living spaces -- living room, dining room, bedrooms and kitchen, while the lower level holds a family room, home office and utility/laundry room, as well as direct access to the garage.
The design's widespread popularity stemmed from two main factors: It maximized the square footage possible on a small or uneven lot, and it was relatively low cost, because it did not require a fully excavated basement.
Out of Fashion
This so-called Mid-Century Modern design has fallen out of favor in the past few decades, and by 2005, the National Association of Home Builders reported that less than .5 percent of all new houses were split levels. The design had become what Stephen Melman, director of economic services at the National Association of Home Builders, calls "statistically negligible."
Existing split-levels could be a hard sell, too. To the 21st century eye, they scream "Happy Days," meaning they seem as dated as wide suit lapels. They also sometimes seem dark and lacking in curb appeal.
Modernizing Makeovers
Architect Jeremiah Battles, writing on MSN Real Estate.com, says problems are not insurmountable.To increase curb appeal, he suggests a portico or canopy to make the front entrance look more welcoming. This not only adds a interesting new roof line, but also has the practical benefit of allowing space for a coat closet or a mudroom.
On the website "Split Visions, A Planbook of Remodeling Ideas for Split-Level and Split-Entry Houses," Battles and his co-author, architect Robert Gerloff, go into great detail about how to modernize split foyers and other split-level designs, offering specific examples of houses that have added features such as front porches, columns, window and siding treatments, shutters and decks to add visual pizzazz and lure the eye away from a sometimes monotonous profile or an overbearing set of garage doors. The Minnesota-based architects also offer plans for enlarging rooms and expanding storage space.
Buying a Split
As baby boomers downsize or upgrade, many split foyers are expected to come onto the housing market. "In the coming years, baby boomers will be moving on," says Arthur C. Nelson, director of the Metropolitan Research Center at the University of Utah. "They will want to sell their homes, and they're hoping there are people behind them to buy [them]."
The abundance and perceived problems with split foyers could lead to many of these homes being sold at bargain prices, so that even buyers with modest budgets often might be able to afford to make modernizing updates. What's more, split foyers can boast of a perk that will never be available in a house that is strictly on the level -- no stair climber will ever be required.
References
Resources
Writer Bio
M.J. McAteer has almost 30 years of experience as a journalist, including two decades working as an editor for "The Washington Post." Her articles have appeared in many publications, including "The Post," the "Boston Globe" and the "Los Angeles Times." She is a Phi Beta kappa graduate of the University of New Hampshire and holds a Master's degree in English.