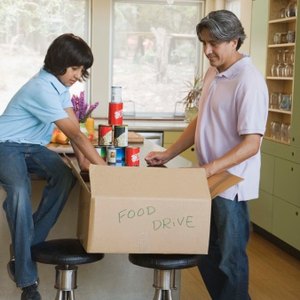 •••
Jupiterimages/Comstock/Getty Images
In 2009, Feeding America reported that 43.6 million people in America were living in poverty and 4.8 percent of all households accessed help from a local food pantry. Individuals, families, organizations and businesses can work together to raise money and non-perishable food to be donate to local food banks. Hunger exists in all communities, rural, urban and suburban, and help with collecting food is needed across the country.
Door-to-Door
Partner up with a local food store for a door-to-door food drive. Get plastic bags from the store and walk through local neighborhoods leaving the bags on each door. Include a note with each bag saying something like: "We are collecting donations for our local food bank. Please leave non-perishable items in this bag and place it on your front porch. We will return on Sunday to pick up the bag." Remember, never go door to door alone; this method does not require you to knock on anyone's door or enter any home.
Canstructure Contest
Divide up into teams within your organization or business and have each team create a structure out of canned and boxed goods. Once the structures have been completed, leave them on display for a few days and have everyone vote for their favorite. Offer prizes for the one that gets the most votes, has the most amount of cans and boxes, is the tallest and the most unique. Once competed, donate all canned and boxed goods to a local food bank.
Auction
Have local businesses donate gift certificates and other prizes that can be bid on with canned and boxed goods during an auction. Before the auction make a list of what each non-perishable item is worth, such as a can of tuna is $1 and a box of potatoes is $2. The auction can be held as a live auction or as a silent one during an event. Try to encourage guests to donate the extra canned or boxed goods they did not use for the auction. Donate all canned and boxed goods to a local food bank when the auction is over.
Week of Themes
Plan a week's worth of collecting non-perishable goodies at work or school by making each day a different theme. Have participants bring in a canned good based around the day's theme, such as Macaroni Monday, Tuna Tuesday and Wild Rice Wednesday. For businesses, host a pot luck each day around each day's theme and have employees bring in a canned good and a dish to share. For schools, have kids bring in goods based on theme, dress accordingly and have planned activities around the days theme.
References
Resources
Writer Bio
Heather Leigh Landon has been a writer since 1988 when she started her career as a stringer for "The McHenry Star News." Since then she has worked for newspapers such as "The Woodstock Independent," "The Northwest Herald" and "Press Journal." Landon graduated from William Rainey Harper College with an Associate of Applied Science in journalism.