How to Create My Own Personal Checks With VersaCheck 3001 Templates
by Kevin Lee ; Updated July 27, 2017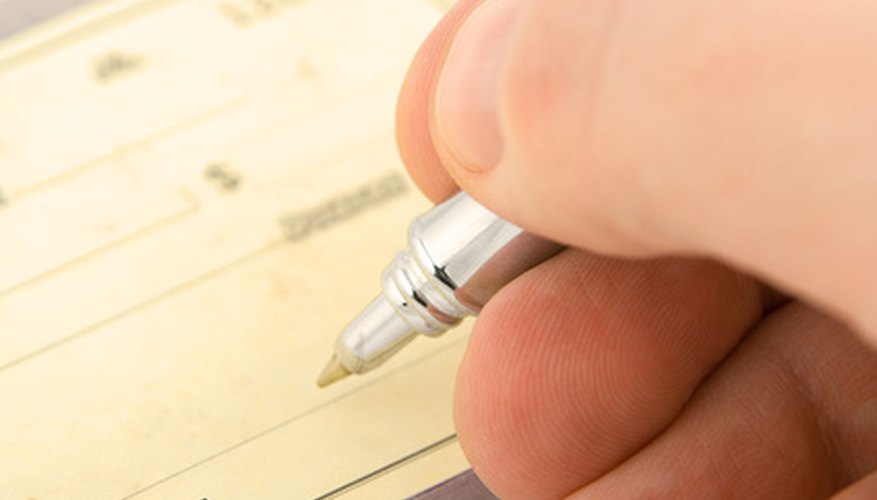 VersaCheck can help you create the personal checks you always wanted, the ones with that picture of your cat. This versatile check-writing program by G7 Productivity Systems turns you into the check designer. No longer will you be limited to pre-rendered check styles offered by your bank. Use items from VersaCheck's toolbox to add images to a check, insert text, draw shapes and experiment with multiple font styles and color variations.
Step 1
Open VersaCheck. Click "Tools" at the top of the screen.
Step 2
Select "Check Designer" to open the Check Designer window.
Step 3
Click the drop-down box next to "Style" to select "3001." The 3001 Personal Check template will open in the editor. A toolbox on the left of the screen contains tools used to edit the template.
Step 4
Click the "Label" tool to and then click anywhere inside the editor. The "Label Properties" pop-up window will open. This window lets you set the label's font, border and background properties.
Step 5
Click the "Text" tab at the top of the window to display the text properties.
Step 6
Type, "This is a test" in the text box and click "OK." The "Label Properties" window will close and your text will appear in the editor.
Step 7
Drag the text to the center of the editor using your mouse. Position all objects by dragging them. Click the "Rectangle" tool to select it.
Step 8
Drag the mouse to create a rectangle around the text. Each corner of the rectangle will have a small green handle. Grab one of the handles using the mouse and drag it to resize the rectangle.
Step 9
Click the "Image" tool and then anywhere inside the editor. The "Check Image Properties" window will open. Click "Browse" to open the "File Selection" window. This will list the files on your hard drive.
Step 10
Select a file and click "OK" to close the "File Selection" window. The image will appear in the editor. Drag the image to the right of the text label. Use the mouse to resize the image if desired.
Step 11
Add additional tools if you need them. The toolbox also includes a signature box, split table, check summary and a deposit slip.
Step 12
Click "File" and select "Save" to save the check.
Tips
Use this technique to create multiple reusable check templates. You can then open them and modify a few properties to create unique design variations.
References