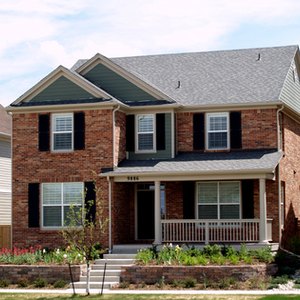 Allstate Insurance Company has been insuring homes for many years. You can get your home protected with its wide variety of plans and options that gives you the coverage you want and can afford.
Allstate's Homeowner's Insurance can cover your residence and, to a certain extent, your possessions. This coverage is designed to help offset expenses caused by damage or disaster.
Exploring the Basics of Homeowner's Insurance
Allstate homeowner's insurance policies have to be purchased according to the type of residence you have. There are separate policies, as well as costs, that vary for homes, condos, manufactured homes and other forms or structures, as well. Renters must also buy contents insurance to cover their possessions.
Evaluating the Function of Insurance
Homeowner's insurance typically deals with specific events that are a threat to your home. Differing policies offer coverage for events such as lightning, fire, smoke, wind and hail, theft or vandalism, frozen plumbing and more. Coverage is also available for anything you may be liable for, as well as for guests who visit your home.
Identifying Types of Insurance
Homeowner's insurance typically provides coverage in two ways, and Allstate provides both options. A home, and its contents, can be insured either at value or for replacement cost. When a home is insured at value, this means that owners receive the value of the home and its contents, minus any depreciation. Replacement cost provides a new home and contents, but it is the more expensive option.
Misconceptions About Homeowner's Insurance
Homeowner's insurance does not normally cover personal possessions completely or business equipment that may be in your home. Limits may go as high as $2,500. Additional special coverage will need to be obtained as riders for business equipment, jewelry, antiques, art, hobby collections and other things of special value.
A Word of Warning Warning
A homeowner should not presume that an Allstate homeowner's insurance policy covers everything that can occur to a home. Allstate, and most other insurance companies, do not automatically insure a home against floods, earthquakes or hurricanes. Things like mold, wet or dry rot, fungus and bacterial damage are usually also not included. Special riders will have to be purchased at additional cost to get this coverage.
Defining Insurance Benefits
Allstate provides a number of discounts on homeowner's insurance. Some of these will provide up to a 25-percent discount. The discounts are available for several things, including having more than one insurance policy with Allstate (15 percent), security devices and smoke alarms (15 percent), fire resistive materials (15 percent), a newly renovated home that is less than 10 years old (25 percent), no other claims (up to 35 percent), being 55 years old or older (10 to 25 percent) and more. Discounts may not be available in all states.
Other Potential Considerations
Additional living expenses are also available from Allstate. These are costs paid to enable you and your family to live elsewhere while your home is being repaired. Allstate has several plans available, and you will need to understand all you are getting at the time of purchase so there is no misunderstanding as to how things are replaced if an event should ever occur.
References
Writer Bio
Mike Valles is a full-time freelance writer who enjoys writing for work, fun and pleasure. He has been a college-level teacher for more than six years. His primary themes for writing are health and financial, and he has a comprehensive book on estate planning. He has been writing for four years.