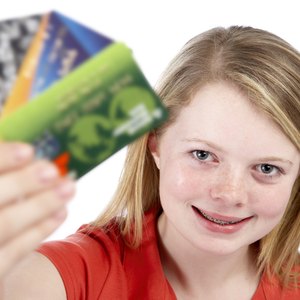 •••
BananaStock/BananaStock/Getty Images
At one point, banks set up tables outside student unions, libraries and other locations that are popular with students and lured them with coupons for snacks or t-shirts in exchange for a credit card application. At that time, neither confirmation of an independent source of funds to pay the bills nor a parental signature was necessary. Consequently, parents did not always look at this newfound source of independence kindly.
Today, there's an alternative source of funds that also helps you learn to budget – namely, the debit card. The card grants you immediate, electronic access to your cash and a means to learn an important life skill that's not taught in school. But, in the event that you're having trouble convincing your parents to allow you to get a debit card, here are some facts to help you build your argument.
Access to Emergency Funds
Different people have different needs and potential uses of a card at different times. But the card's ability to be a ready source of cash can keep you safe, which is an important reason to get one. For instance, it will help you get a ride home if you're stranded and have no cash.
Efficient Cash Distribution
If your parents sign up for your checking account, they can link your account with their own or their debit card, which is a simple way to fund your card. This approach eliminates the need for a face-to-face meetup to get your allowance or the cash you need for a one-time purchase for books, tuition or any other event.
Financial Education Opportunity
With a debit card, your parents can teach you how to set up a checking account and request a debit card you use to draw cash from that account. They can deposit money in the account and instruct you to limit your purchases to the cash in the account. Also, setting up the card is a prompt for your parents to speak to you about money, both spending and saving.
If you blow your budget and overdraw your account, your parents can stipulate that you will be the one who pays the overdraw fee, which can be $30 or more. Paying that hefty fee is one way you learn to budget.
Business Account Management
If you earn money to pay for school or other needs, depositing the cash in your personal account and using a debit card to pay your expenses gives you the sole responsibility for creating and monitoring a business-related budget. Controlling that account ensures that it's up to you to sink or swim.
Opportunity for Parental Oversight
If you and your parents have a joint checking account and a debit card that draws from that account, they can automate account deposits that represent your allowance. This setup simplifies the cash distribution process for them while providing a means to oversee your cash management abilities. What's more, they can use online or mobile banking to access and monitor the account.
Risk Mitigation Measure
If they set up the checking account's overdraw options correctly, even if you slip up and attempt to make a purchase that would overdraw your account, you'll be unable to complete the transaction. Instead, any purchase you make must be equal to or less than the balance in your account. For this reason, a debit card is a preferred alternative to a credit card.
Cash Control Opportunity
The debit card will likely encourage you to think twice before you make a purchase, due to the consequence of an immediate drawdown of the cash in your account. So, it's likely that a debit card is more likely to teach you that cash is not free than is a credit card for which there's a time delay between your purchase and a decrease in your cash balance.
Checking Account Ledger
You can use a checking account ledger to track your debit card usage, which simplifies your efforts to set up a budget. As you balance your account, you'll recognize ways to balance your spending to ensure cash is available for the things you need and want.
Responsible Spending Habits
If they choose, your parents can stipulate that you use your debit card for emergencies only. Lunch at a new popular spot does not constitute an emergency.
Set Spending Caps
The debit card or checking account may have the means to limit the amount of any one purchase as well as a daily limit. This is one more tool your parents can use to help you learn to live within a budget.
Use of Financial Apps
If you use a debit card and it's linked to your parents' account, they can use an app to gain digital oversight of your spending and saving habits. Also, using apps, they can make cash transfers to your account and set spending limits. In addition, your parents can receive a text or email message when you make a purchase. An app also allows them to disable the card should you lose it.
Mention of Ground Rules
Let your parents know that you understand the debit card will come with some ground rules. Acknowledge that your folks will need to have a plan if you run out of money and must ask them for an advance on your allowance or a loan.
Debit Card Restrictions
An app might be available to allow your parents to select the type of stores or specific websites where you can shop. They might also put money in your account in different categories, such as that which can be spent anywhere and some that must be spent at a certain store or website. If you attempt to buy an item at a nonapproved store, the purchase is declined.
You may have learned to save first by stashing cash in a piggy bank and then a savings account. But, it's likely that you relied on your parents to purchase the things you needed. Once you reach your teens, you begin to spend money on your own, such as buying lunch while on a shopping spree or school field trip. So you may need a checking account that lets you make purchases with a debit card, while granting your parents the ability to set guardrails that will prevent financial disasters.
References
Writer Bio
Billie Nordmeyer is an IT consultant of 25 years standing. As a senior technical consultant for SAP America and Deloitte Touche DRT Systems, a business analyst, senior staff, and independent consultant, Billie has worked across the retail, oil and gas, pharmaceutical, aeronautics and banking industries. Billie holds a BSBA accounting, MBA finance, MA international management as well as the Business Analyst and Software Project Management certificates from the Cockrell School of Engineering at the University of Texas at Austin.