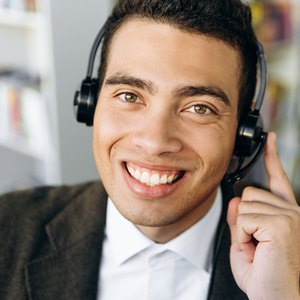 •••
Kateryna Onyshchuk/iStock/GettyImages
Contacting TurboTax online isn't very straightforward. The company prefers to give personalized assistance to customers over the phone. More expensive TurboTax packages come with more responsive and interactive support options, but even free users can connect with a specialist over the phone.
In terms of online support options, TurboTax offers a contact form, chatbot, social media and forums. However, you will typically be directed to phone support if your query doesn't match a pre-existing list. You can also browse frequently asked questions, watch videos and read blogs on TurboTax.com for a DIY approach.
Using the TurboTax Contact Form
At first glance, the TurboTax contact form appears to offer a way for the public to ask questions. However, most search queries return the same prompt: sign in to your TurboTax account for personalized assistance.
Once you log in, you can click on the "Contact" button in the top-right corner of the screen. Or, you might see a "Help" button in the top-right corner. Click this and then navigate to the "Contact Us" option.
Use the Chat Service
Sign in to your TurboTax account and click the "Help" or "Contact" button in the upper-right corner to bring up the chat option. It will start as an automated "chatbot," which means you can get automatic answers by typing in a query.
If the chatbot can't help you, you can choose to either navigate to the community forums or to connect with a specialist. A TurboTax representative will call you if you choose the specialist option. You may have to wait for the phone call, depending on the current level of demand.
Messaging Through Social Media
TurboTax maintains several social media channels, and you can reach out to them through direct messages. Visit Facebook.com and click on the "Message" button just below the "Shop Now" button. On the Facebook mobile app, the message icon appears directly to the right of the blue "Shop Now" button.
To send TurboTax a direct message through Instagram, you'll need to log in to the mobile app. (Messaging is not available on Instagram.com.) Search for @TurboTax and then use the "Message" button to the right of the blue "Follow" button.
On the Twitter app, tap the envelope icon at the bottom of the screen and then tap the "plus" icon in the upper right corner. Search for @TurboTax, select their profile and then type your message.
TurboTax Community Support
TurboTax also maintains a community forum where you can get advice from tax professionals and other community members. While this doesn't necessarily put you in direct contact with TurboTax, it can nonetheless provide you with a solution.
Browse through thousands of previous discussions to see if your question has already been answered, or start a brand-new discussion about your situation. Consider reading through TurboTax's frequently asked questions for a quick answer too.
For TurboTax Canada customers, community support is also available in French.
Getting Help from a Tax Expert
One of the perks of the paid TurboTax programs, like TurboTax Advantage and TurboTax Live, is the ability to easily connect one-on-one with a support representative. If you need your taxes reviewed or you'd like step-by-step help using TurboTax, the paid programs are the best choice.
The exact program to choose depends on your tax situation (such as if you're self-employed, claim dependents, have investments, etc.) and your support expectations. For example, with TurboTax Live Deluxe, a support representative can draw on your screen in real-time to show you exactly where to click. TurboTax support is also available in Spanish.
References
Writer Bio
Cathy has been writing about finance since 2014 and has been published on sites like The Nest, Bizfluent, Financial Independence Hub, and Credibly. She takes a particular interest in demystifying personal finance questions, like budgeting, tackling debt, and investing for the future.