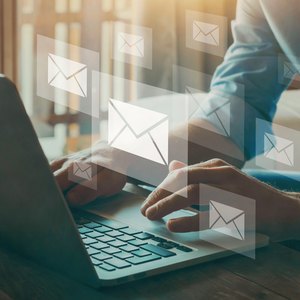 •••
anyaberkut/iStock/GettyImages
Email marketing is still effective and isn't going anywhere soon. With $42 back for every dollar spent, email marketing has an impressive return on investment. Numerous email marketing services are available to businesses. Two of these services are Constant Contact and Mailchimp.
Creating Emails With Constant Contact
Constant Contact is a sound combination of useability and functionality. It has a drag-and-drop editor that goes well with its numerous templates. This allows complete editing capability. Constant Contact also has a unique feature to customize the email to your styles and colors. You simply enter your website's URL.
Constant Contact provides editing capability, such as inserting videos and images. It's self-explanatory and easy to use, quickly allowing you to create a customized email.
Mailchimp Email Creation Obstacles
Although Mailchimp does provide step-by-step instructions that help beginners, it throws a hurdle into the creation process. The user must input the campaign's details upfront. This includes:
subscribers
subject line
from address
When developing a campaign, these details are often considered as the final steps, but with Mailchimp, you don't have that privilege.
Mailchimp provides basic layouts as well as layouts that target specific campaign types. And it provides easy-to-use templates.
Constant Contact Marketing CRM Tools
Customer relationship management, better known as CRM, is a shared database that takes audience data and allows a business to organize and analyze it. The data can then be used for sales initiatives as well as customer service. It also allows the business to develop campaigns that target potential customers.
CRM is important because it allows the business to know its customer and potential customer better. It is a vital tool in the marketing and service plan.
Constant Contact does not have marketing CRM tools. The business must have its own CRM and integrate it with Constant Contact's email marketing campaigns.
Mailchimp has marketing CRM tools. They can collect customer data and compile reports. This can only improve email marketing campaigns.
Dynamic Sign-Up Availability
Acquiring email addresses from your website is an effective way to grow a potential customer email list. These are users who have already shown an interest in your service or product.
Constant Contact offers dynamic sign up. They provide sign-up forms that are:
secure
mobile optimized
professional
Behavioral triggers are customized so that you can decide when the form should appear and how. Users can choose from pop-ups, floating tabs and fly-ups.
Mailchimp also has dynamic sign-up capability. Using the Form Builder, located on the Mailchimp dashboard, a business can customize their sign-up form with the following tools:
This will allow you to share your sign-up form.
Constant Contact Basic Package Cost
Constant Contact has a basic package that costs ​$20​ a month and allows up to ​500​ contacts. Although limited in the number of contacts, it does have some nice features.
The biggest perk is the number of emails a business can send out monthly. Constant Contact allows an unlimited number. So you could send out multiple emails to those 500 contacts per week and still only pay $20.
Constant Contact Email Marketing Basics
Apps that integrate with your e-commerce, Outlook and Facebook are available with Constant Contact. They also provide e-commerce marketing, industry-specific templates and sign-up forms. Tracking and reporting are part of the basic package as well.
A business can manage all contacts in one central location. You'll also be able to import contacts from various platforms like Gmail and Outlook. And finally, list segmentation is possible.
Constant Contact Marketing Automation
As part of your basic package, Constant Contact will automatically resend an email to recipients that didn't open the original email. They will provide list-building tools to work on your website or Facebook page. And Constant Contact will help you maximize your open rates by providing A/B testing on subject lines.
Mailchimp Free Plan
For those entering email marketing for the first time, Mailchimp has a free plan. It's actually pretty generous. It accommodates ​2,000​ contacts and lets you send ​10,000​ emails a month. The free plan comes with marketing CRM, sign-up forms, basic email templates, surveys and a marketing calendar.
But there is a catch. To receive this at no charge, Mailchimp runs ads in your email. If that doesn't bother you, then the free plan might be for you.
Mailchimp Paid Basic Plan
The basic paid plan, called the Essentials plan, for Mailchimp starts at ​$9.99​ a month. That price includes ​500​ contacts and ​5,000​ emails sent out monthly. Because it is a paid plan, it will not have any Mailchimp advertisements. It comes with many features that enhance an email marketing campaign.
Mailchimp Email Marketing Basics
As part of the Mailchimp Essentials plan, you'll receive hundreds of premade design landing pages and email templates. But if you want something more customized, you'll have access to their Creative Assistant. This is an artificial intelligence that develops on-brand designs.
Mailchimp also supplies a subject-line helper that refines subject lines. Easy-to-read reports are also available that track sales and campaign performance. They also include unlimited sign-up forms.
Behavioral targeting is available with Mailchimp. Marketing CRM gives you the ability to get to know your audience and target them. Segment audience based on shared traits is part of the package.
Mailchimp Contact Marketing Automation
Mailchimp will provide A/B testing on subject lines. Time-optimized scheduling is also available. This takes the guesswork out of deciding the right time to send an email. Follow-up emails respond to a contact's actions.
Constant Contact vs. Mailchimp Winner
Mailchimp and Constant Contact are both strong contenders in email marketing. But Mailchimp has more to offer for the investment.
The Mailchimp free plan is a great way for a business to enter the email marketing fray. But the paid plans allow a more intense and effective marketing experience.
References
Writer Bio
Anne attended University of Akron and went on to have a career in television sales. Working as a commercial property and casualty insurance agent for nine years allowed her to learn about different businesses' needs. She has also owned an advertising agency where she created marketing capaigns for various clients. Anne has written for several publications. She currently resides in Charleston, SC.