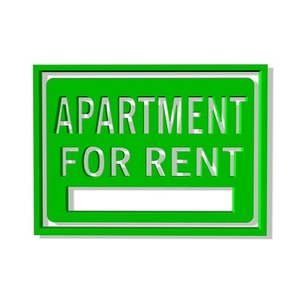 •••
apartment for rent image by dead_account from <a href='http://www.fotolia.com'>Fotolia.com</a>
Conducting a background and credit check on a prospective renter can ultimately be the determining factor as to whether or not you will rent the unit to him. As a landlord, finding a good tenant is the key to having a successful rental. A bad tenant can bring your property value down and your stress level up. Therefore, thoroughly examining the potential tenant's background for any negative occurrences and checking her credit for any late rental payments and past due amounts may help you make the right decision.
Have your prospective tenant complete a rental application. As a landlord, you have the right to charge the tenant a fee to complete the application. On the application, ask for the name, number and address of their previous landlord, their employment information including the name of a supervisor that can confirm their employment, the tenant's social security number, phone number, previous addresses and two personal references. In addition, have the potential tenant sign the rental application to authorize you to check her credit and background.
Contact the prospective tenant's employer and speak with the supervisor. Confirm how many hours the tenant works and how much she is paid, if possible. The average renter should not pay more than 30 percent of her income toward rent. If the potential tenant does not make enough money to cover the rent comfortably, it could be an indication that she may struggle to pay her rent to you.
Contact the renter's previous landlords. Ask the previous landlords about the prospective tenant's rental history. Also, ask if the tenant was entitled to have his security deposit refunded after he vacated the unit.
Contact one of the three major credit bureaus to buy a copy of the potential tenant's credit report. Thoroughly check the report for late and missed payments, delinquencies and judgments.
Conduct an interview with both of the personal references. Ask the references questions about the character of the tenant.
References
Writer Bio
Based in Chicago, Kenyonda Bradley has been writing for online publications since 2008. With more than 10 years of experience as a hairstylist, she is also studying to become an elementary school teacher.