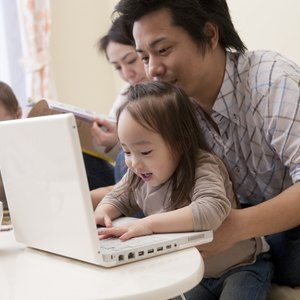 •••
MIXA next/MIXA/Getty Images
To ensure everyone who needs a computer can get one, there are local organizations that provide computers for free or at a reduced cost to low-income families. Some offerings are part of government programs, and companies such as Microsoft and Dell sponsor programs. In some cases, you may need to have proof of your family's income level or be enrolled in a state or federal program. In other cases, you may walk into a store that offers refurbished computers and pick one up at a nominal cost.
EveryoneOn
Any family with an income under $35,000 or with a child enrolled in a school-lunch program may be eligible for a low-cost computer and low-cost Internet access through EveryoneOn. This program, available in 49 states, offers laptops for $199 and tablets for $150 to qualifying families as of 2014. The EveryoneOn program also offers free computer courses at 8,000 locations in conjunction with local libraries and nonprofit organizations.
Local Technology Inclusion Organizations
In some communities, local government, businesses and nonprofits pull together to make computers available to low-income families. SmartRiverside is one such organization, offering free computers to families earning less than $45,000 in Riverside, California. In New England, low-income families may get refurbished computers at a nominal cost from the Computer Technology Assistance Corps (CTAC). Many of these organizations are Microsoft Registered Refurbishers, which is a program Microsoft set up specifically to help provide working computers to charities and low-income families. Microsoft has a directory of all of its registered refurbishers in each state.
Other Refurbishers
Many businesses and organizations that collect used computers and refurbish them don't make them available to individuals. Instead, they give the computers to schools, libraries or other organizations such as the Salvation Army. Other refurbishers sell used computers to anyone in a retail store. While these computers' availabilities are not designed for low-income families, the prices are about the same organizations such as EveryoneOn charges. You may contact a local refurbisher to find out the best way to get a computer for your family.
Other Organizations
Any nonprofit or charity organization that accepts used computers may connect you with one at a low cost, if not for free. The Salvation Army and Goodwill are two places to start. If neither organization has a presence in your community, contact your children's school or your religious institution, either of which may be able to help. You also could check the "Free" section on ad websites.
References
Resources
Writer Bio
A published author and professional speaker, David Weedmark has worked as a technology consultant for many small businesses and was once a professional financial advisor. David has also has written hundreds of articles on money matters for newspapers, magazines and online publications.