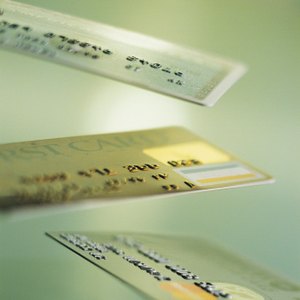 •••
Comstock/Comstock/Getty Images
The Macy's credit card is issued by Citi, a major financial services company. Citi, also known as Citigroup, handles all payments, billings and customer service requests for the Macy's card through a subsidiary -- Department Stores National Bank. According to the Office of the Comptroller of the Currency, Department Stores National Bank does not have any employees or any branch banking offices. The company was created in 2005 for the express purpose of engaging in credit card operations that are directed by Citi.
Find the balance on your Macy's account by checking your billing statement. Pay off your balance -- if any -- before closing the account. It is possible to close the account with a balance still showing, but you still will be liable for monthly finance charges and other fees, such as being over the limit.
Call the customer service number on the back of the card. Instruct the representative to cancel your account effective immediately. Provide the representative with any requested information to confirm your identity, such as your Social Security number and date of birth.
Send a letter as a follow-up. Mail the letter to the attention of the Macy's credit card customer service department, using the address on your billing card statement. Recap your telephone conversation in the letter. Include your name, address and account number.
References
Writer Bio
Robert Lee has been an entrepreneur and writer with a background in starting small businesses since 1974. He has written for various websites and for several daily and community newspapers on a wide variety of topics, including business, the Internet economy and more. He studied English in college and earned a Bachelor of Arts in liberal arts from Governor's State University.