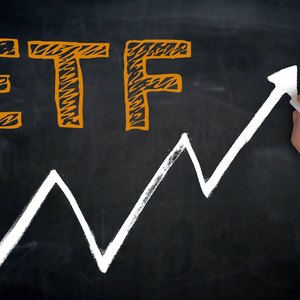 •••
8vFanI/iStock/GettyImages
What is an ETF?
An exchange-traded fund (ETF) is a kind of fund that owns the underlying assets – like foreign exchanges, stocks, bonds, commodities, etc. – and divides the ownership of these assets into shares. The market has witnessed the rise of ETFs since the 2008 financial crisis.
ETFs v.s. Mutual Funds
Different from mutual funds, ETFs provide investors with a benchmark return at minimal cost (often traded commission free). Also, there is no required minimum initial investment amount, whereas mutual funds usually ask an initial investment of $1,000 or more. Those advantages make ETFs attractive for long-term investors.
How to choose the right ETFs for your portfolio
Depending on markets you want to expose yourself to, it's better to use the highly rated and most widely traded ETFs on the market. These ETFs should give you the greatest flexibility of low expense ratio but similar performance as an index fund. For example, if you are looking for exposure to the stock market, you'd better track the S&P 500 index.
Highly Rated Stock Index ETFs
Here are some highly rated stock index ETFs picked by Morningstar Inc.:
SPDR S&P 500 Index (SPY): This is the most massively traded and liquid ETF, which tracks the S&P 500 and has a very low expense ratio. 

iShare Russell 2000 Index Fund (IWM): This focuses on the small-cap of the US equity market. With the Federal Reserve's plan on boosting interest rates by year end, small-cap stocks may offer large growth potential. Of course, higher return comes with higher risk. 

SPDR Dow Jones Industrial Average (DIA): This is the most massively traded and liquid ETF, which tracks the Dow Jones Industrial Average and has a very low expense ratio. 

Vanguard Total US Stock Market (VTI): This uses a benchmark that measures the investment return of the overall US stock market with minimal cost. 

iShares Edge MSCI USA Momentum Fc` ETF (MTUM): provides exposure to large- and mid-cap US stocks exhibiting a relatively higher price momentum. 

Consumer Discret Sel Sect SPDR (XLY): tracks a market-cap-weighted index of  large-cap, consumer-discretionary stocks drawn from the S&P 500.

iShares S&P 500 Growth ETF (IVW): selects stocks with growth characteristics from S&P 500 index.

Vanguard High Dividend Yield ETF (VYM): selects high-dividend-paying US companies, excluding REITS, and weighs them by market cap.

First Trust Value Line Dividend ETF (FVD): provides exposure to an equal-weighted index of dividend-paying companies.

References
Writer Bio
Ziqi Zang is an Economics Ph.D. candidate at UCLA. Her research is centered on financial markets and financial instruments. Her goal is to make the in-depth financial market analysis inclusive and accessible to individual investors.