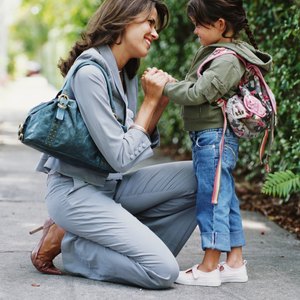 •••
Kraig Scarbinsky/Photodisc/Getty Images
Florida's Department of Revenue no longer sends out paper child support checks to custodial parents when non-custodial parents make payments into their accounts. If you're collecting child support through the state, you have only two choices for receiving it: direct deposit to a debit card or into your bank account.
Getting a Debit Card
After you have a child support order that directs that support must be paid through the Department of Revenue – not directly to you – signing up for a debit card is about as simple as it gets. Go to the Department of Revenue website and download the application form, available in either English or Spanish. Complete it, date it, sign it and mail it to the State of Florida Disbursement Unit at the address shown near the top of the first page. You can't submit the application online. Your other option is to do nothing. If you don't specifically request direct deposit into a bank account on this form, the DOR will automatically send you a debit card.
Using the Card
When your ex pays child support, the money is deposited to your debit card account within two days after the payment is received by the Disbursement Unit and the Unit credits it to your child support account. After that, the child support debit card works the same as all other debit cards. You can get cash at ATMs or ask for cash back when you use it to make purchases. You get one free ATM withdrawal each month.
References
Writer Bio
Beverly Bird has been writing professionally for over 30 years. She is also a paralegal, specializing in areas of personal finance, bankruptcy and estate law. She writes as the tax expert for The Balance.