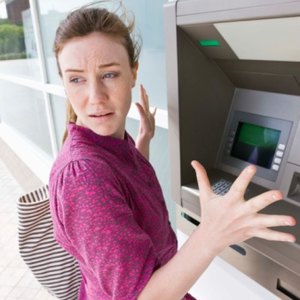 •••
Jupiterimages/Polka Dot/Getty Images
Free checking: Oft desired, seldom fully achieved. The competitive and regulatory pressures facing banks in recent years have diminished the profitability of free checking accounts. U.S. News reports that: "In 2009, 76 percent of banks offered free checking. As of 2018, that number dropped to 38 percent."
Banks and credit unions with free checking can recoup some of their costs by adding fees for certain services offered by these accounts. You can guard against surprise fees, like those for balance inquiries, by carefully reading all the fine print before affixing your signature to the account application.
Paying to Check Your Balance
When you open a checking account, free or not, you are issued an ATM card, also called a debit card or cash card, that gives you free access to the ATM network used by the bank. ATMs perform several functions, including dispensing money, accepting deposits and providing you with the account's current balance.
Normally, you can exercise these functions for free on in-network ATMs. However, an out-of-network ATM will almost always charge you a usage fee. These machines may charge your checking account a few dollars when you submit a balance inquiry, meaning you may have to pay even if you don't withdraw any money.
For example, you can open a Chase Total Checking account and pay no monthly fees as long as you meet certain conditions. This account charges ​$2.50​ for non-network ATM balance inquiries, whereas in-network ATM usage is free. Most banks allow you to locate nearby in-network ATMs, often through a bank's online website and/or mobile app. That's the case for the Wealthfront Cash Account, a free checking account offered by this investment advisory firm that charges at least $2.50 per out-of-network ATM usage.
Free Checking Accounts Charge Fees
Banks and credit unions tout checking accounts as "free" if they don't charge a monthly or per-transaction fee. Because you can utilize your checking account without ATM balance inquiries, banks can still call the account "free" as long as it doesn't charge for check processing. The best free checking accounts charge the fewest fees or reimburse you for some of the fees you may encounter.
For example, a top-rated free checking account from Alliant Credit Union (where almost anyone can become a member) reimburses you ​up to $20 a month​ for out-of-network ATM usage.
The Virtual Bank Alternative
When you are choosing a bank, note that online-only virtual banks are one of the last bastions of free checking. Because they don't have to pay for brick-and-mortar branches, online banks have a superior cost structure that allows them to offer "free" checking account with minimal fees.
For example, the virtual Ally Bank's Interest Checking Account doesn't charge for monthly maintenance, doesn't require a minimum deposit or minimum balance and even pays interest on your balance. In-network ATM usage is free, and the account reimburses you ​up to $10 per month​ for any out-of-network ATM fees.
International ATM Fees
International banks offer the same services provided by domestic banks, but they operate in their local currency. For example, if you are stationed in the United Arab Emirates, you might open an Emirates NBD salary account (known as Plus Checking) if you earn a minimum salary of AED 5,000 (the AED is the local currency, also known as the dirham). An Emirates NBD salary balance inquiry is free for in-network ATMs but will cost you AED 1 if you go out of the network.
Read the Fine Print
Banks and credit unions must disclose comprehensive information about an account's terms and conditions. This is where you can look past the advertising hype and see how much you're likely to pay to open and use the account. This is a legal requirement and includes all you need to know about ATM charges as well as the fees for check printing, wire transfers, insufficient funds, etc.
Disclosures will also reveal any hoops you must jump through to avoid a monthly maintenance charge on your checking account. It's a wise consumer who carefully reads account disclosures and compares the services, limitations and fees among competing financial products.
References
Writer Bio
Eric Bank is a senior business, finance and real estate writer, freelancing since 2002. He has written thousands of articles about business, finance, insurance, real estate, investing, annuities, taxes, credit repair, accounting and student loans. Eric writes articles, blogs and SEO-friendly website content for dozens of clients worldwide, including get.com, badcredit.org and valuepenguin.com. Eric holds two Master's Degrees -- in Business Administration and in Finance. His website is ericbank.com.