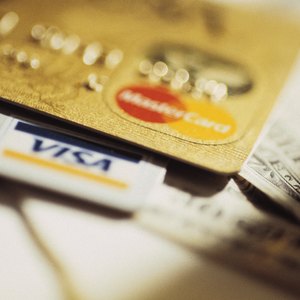 •••
Comstock/Comstock/Getty Images
According to Nerdwallet's 2017 American Household Credit Card Debt Survey, Americans have racked up an astounding $927 billion in debt. One way to avoid joining that statistic is to stick with paying for items in cash. Of course, it's safer to use cash to buy a prepaid Mastercard for retail and online purchases than it is to carry around large sums of money. If you have this type of card, you'll need to frequently check your prepaid Mastercard balance to keep track of your spending.
Checking Your Balance Online
Walmart, NetSpend, Bancorp and Brink's are just a few examples of companies that offer prepaid Mastercards. If you'd like to check your card balance, you'll need to visit the website of the company that issued your card. In most cases, as with the Walmart MoneyCard Prepaid Mastercard, you'll need to register the card first. When you do this, you'll create your login information, which you can use later to check your balance. The company may also allow you to download their mobile app and check your balance that way.
The website for MyPrepaidBalance is another online tool that is especially helpful if you have multiple prepaid cards. The site allows you to create an account where you can view all of your cards, including balances and individual transactions, at once. If you only need to make one Mastercard balance check, you can do so on the homepage. Simply enter your card number, the month and year printed on the front of your card and the three or four-digit card security code listed on the back of the card by the signature strip.
Checking Your Balance by Phone
Perhaps the quickest way to find out your prepaid gift balance is to flip your Mastercard over and locate the automated customer service number. This number is toll-free and has prompts you can follow to retrieve your card balance. Depending on the company, you may be asked to use your keypad to enter the card number, the last four digits of your Social Security number and the card's security code. Some card issuers also provide a phone number for a live agent, however, it is important to note that using this option may come with a fee.
Checking Your Balance at an ATM
Another option is to visit an ATM in your area, insert your card and follow the prompts to check your balance. First, you'll want to make sure the ATM is in-network, or you may end up having to pay an ATM fee and a service fee from the issuing company. For example, Univision allows prepaid Mastercard cardholders to use any ATMs in the Allpoint ATM Network without fees. They list a fee of $1.95 for any out-of-network balance checks, which doesn't include the fee that the specific ATM may charge.
Check Your Balance Via Text
Some companies allow users to check their balance via text messaging. This information is typically provided to you when you first purchase and load your Mastercard. There will be a short code you need to type that indicates your desire to check your balance and that will be followed by the last four digits of your card number. After you send the text message, you just wait for a response. You may also want to sign up for account alerts, like Green Dot's low balance alert. Once your account reaches a specified amount, the company will automatically text you to let you know it's time to reload the card.
Watching for Fraud
Prepaid Mastercards are susceptible to fraud, but if you know what to watch for, you can drastically reduce your chances of losing your hard earned money. For instance, it is always essential that you check the packaging when buying cards at retail locations. If the packaging has a slit, a scammer may have removed the cards and replaced them with fake ones. When you pay to load the cards, the funds actually go to the real cards that are in the scammers' possession.
You'll also want to avoid buying prepaid cards that have the magnetic strip readily accessible. Scammers can skim the magnetic strip from the store card and use it for their own card. When you load funds onto that card after buying it, those funds are also getting loaded on to the scammers' card.
References
Writer Bio
Alicia Bodine is a New Jersey-based writer specializing in finance. With more than 13 years of experience, her work has appeared in LendingTree, GoBankingRates, Sapling, Zacks and budgeting.thenest.com.