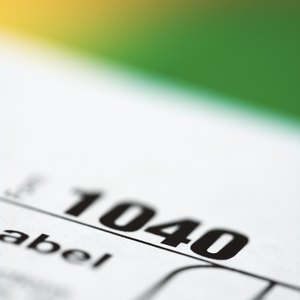 •••
Thinkstock/Comstock/Getty Images
At tax time, there are two ways you can file your federal taxes. You can file your Form 1040 either by mailing a paper copy to the IRS or by filing it online. Filing online is faster and easier to track, but if that option is not available to you, you can file a paper tax return by mail. If you file by mail, you can check the status of your return by contacting the IRS directly.
Contacting the IRS to Check Your Return Status
If you need to check a paper tax return status, you'll need to contact the IRS directly to learn the status of filing. A paper return can take up to four weeks to process, so if you call right after mailing, you're not likely to get much of an answer. Your local IRS office may also permit taxpayers to come in by appointment and have a face-to-face meeting with an agent. If you're expecting a refund, you can use the Where's My Refund tool on the IRS website to check the status of your refund. If your refund is processing, it means the return was received. You can start checking your refund status four weeks after you mailed your return.
If you e-filed, you'll receive immediate confirmation that your return was received. You should wait 24 hours to check the refund status. Your return, and thus your refund, will be processed more quickly if you file online.
Filing Your 2018 Taxes
Because the Tax Cuts and Jobs Act changed the tax law in significant ways, the IRS is still working on the forms for the 2018 tax year, for which taxes are filed in 2019. Once the forms are available, you can print or download the forms from the IRS website, although you won't be able to complete them until the 2018 tax year is over and you have all your income and deduction information. The new forms are being touted as shorter and simpler to use than the prior 1040 forms.
Filing Your 2017 Taxes
Tax returns for the 2017 tax year were due April 17, 2018. However, extensions can be granted if you completed and submitted a Form 4868 by that date with an estimated tax liability calculated. If you obtained an extension, the returns are due Oct. 18, 2018. Note that you may still incur late fees for taxes not paid by April 17, even if you obtained an extension.