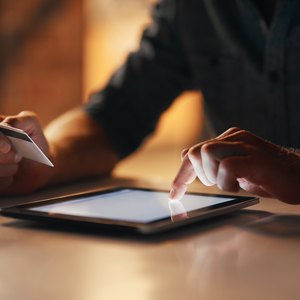 •••
PeopleImages/E+/GettyImages
The Illinois Link Program allows you to manage your benefits from the Illinois Department of Human Services. Link Program benefits include cash assistance, medical assistance and the Supplemental Nutrition Assistance Program, the name Illinois gives to its food stamps program. You can use the permanent Link card you receive like a bank card at participating stores. Once you apply for public aid, check on the status of your application to see how long you must wait before you can begin using your benefits.
Getting Started
When you go to apply for benefits, you will need to provide the Illinois Department of Human Services with your proof of identity, residency and your Social Security number. Then, once the department has your application, you must visit an office to talk with a case worker in person to discuss your particular case and needs. Before your appointment, be sure to have your caseworker let you know which supporting documents you must bring with you in order to complete your case to avoid any delays.
Checking Your Status
It will take about 10 days after being approved for benefits before you will receive your Link card. If you have not received your card within 10 days of approval, you should contact your caseworker to have him see if there is a problem, or if you need to supply additional documentation. However, depending upon which benefits you applied for, it could take up to 30 days to complete the entire process from application to receiving your benefits. If you are in immediate need of food and/or you have little or no money, your application could be approved sooner, so you can get your SNAP benefits faster.
After submitting your application, you can check the status of your Link card in one of several ways. First, you can check on your status by calling the Illinois Link helpline directly at 800-678-5465 to speak with a representative. The operators answering your call can tell you the status of your application once you give them your identifying information. You can also visit the Department of Human Services office at which you applied, and make an appointment with your case worker. She should be able to pull up your file and check on the status of your Link card, however, this option probably takes the longest. Lastly, you can go online and check your application's status on the Application for Benefits Eligibility homepage.
References
Writer Bio
Jaime Swanson started working as a journalist in 2001. She has written and edited for newspapers in northern Illinois, including the "Daily Southtown" and the "Daily Herald," both in suburban Chicago. Swanson holds a Bachelor of Arts in English from Northern Illinois University.