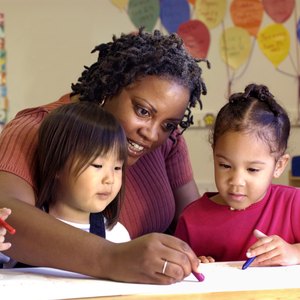 •••
Thinkstock Images/Stockbyte/Getty Images
To provide for their families, parents have to work. Other parents may even go back to school to further their education and expand their income opportunities. But while parents are at work or school, they need to find high-quality and dependable childcare at an affordable cost. Many Georgia parents are able to meet these goals by using a statewide benefit that makes this possible – the Childcare and Parent Services (CAPS) program.
Check your CAPS application status through your online account at the Georgia Gateway portal (www.gateway.ga.gov) or by calling 1-833-4GACAPS (1-833-442-2277).
What is the CAPS Program?
Geared toward lower-income families that need financial assistance, eligible recipients of the CAPS program receive subsidized child care. Assistance is available from birth to age 13 for early childhood care, children in school and certain education programs. (This age limit increases to 18 for children who have special needs.)
Formerly under the umbrella of the Georgia Division of Family and Children Services (DFCS), CAPS is currently administered (effective Dec. 18, 2017) under the Department of Early Care and Learning (DECAL).
Two Units of CAPS
DECAL divides CAPS into two primary units:
Scholarship Administration Unit. Based in Atlanta, this division helps potential applicants determine their eligibility for the CAPS program. For eligible parents, this unit also helps them find high-quality child care.

Family Support Unit. Under this division, the CAPS program assigns consultants to participating families. These consultants are located across the state, but they are only assigned to families who live in the same region as they do. Consultants serve as advocates for their assigned families, and they help with benefit renewals and changing financial situations. The consultants also help families find resources that help solve problems families may face with their jobs or job training.

CAPS Eligibility Requirements
To determine its eligibility for CAPS benefits, a family must meet certain requirements. For example, families must live in Georgia with verifiable income. Families who have first consideration for the CAPS program are in a "very low income priority group." As of May 30, 2018, the maximum income allowed in this group is 100 percent of the federal poverty guidelines (for example, this translates to $25,100 for a family of four).
Each family in the CAPS program must have its ongoing eligibility redetermined every 52 weeks. As of March 26, 2018, the maximum income that's allowed for a family to remain eligible for CAPS benefits increased to 85 percent of the state median income (for example, this translates to $60,060 for a family of four).
Application Process
Admission into the CAPS program begins with the application process. You can apply online, or you can call 1-833-4GACAPS (1-833-442-2277) to request a paper application. To apply online, visit the Georgia Gateway portal at www.gateway.ga.gov. If you don't have an online account with Georgia Gateway, click or tap the "Create Account" button. Follow the prompts to sign up for a new account, through which you can apply for CAPS benefits.
You'll first complete an online pre-application screening process. If you're ineligible to receive CAPS benefits, you won't have to complete the entire application. Successful applicants will receive CAPS child-care scholarships.
Check on CAPS Application Status
After you've submitted your CAPS application and submitted the required verification documents, you'll check your CAPS application status by using the same GACAPS login through the Georgia Gateway account you created. Visit www.gateway.ga.gov and enter your Use ID and password to access this information. If you don't have internet access, or if you have trouble navigating the Georgia Gateway portal, you can also call the GA CAPS program phone number at 1-833-4GACAPS (1-833-442-2277) to check on the status of your CAPS application.
References
Writer Bio
Victoria Lee Blackstone was formerly with Freddie Mac's mortgage acquisition department, where she funded multi-million-dollar loan pools for primary lending institutions, worked on a mortgage fraud task force and wrote the convertible ARM section of the company's policies and procedures manual. Currently, Blackstone is a professional writer with expertise in the fields of mortgage, finance, budgeting and tax. She is the author of more than 2,000 published works for newspapers, magazines, online publications and individual clients.