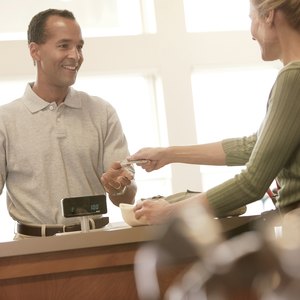 •••
Comstock/Stockbyte/Getty Images
It's easy to find out how much credit you have left on any Visa gift card using your computer or smartphone, or by checking with a merchant when you make a transaction. You'll need the card and security code, and the process should only take a matter of minutes.
How Is Visa Involved?
Visa is not a credit card or gift card issuer. The company is a network for banks and businesses that want to issue Visa credit and gift cards, which are cards that come with different rewards. Visa creates the rewards programs so that banks don't have to come up with their own.
This means more consumers will have access to the rewards, making them more attractive to Visa's partners who provide them, who then can then offer them to consumers at a lower cost. Visa also does not issue gift cards. Those come from banks, stores and other businesses. They are part of the Visa network, which helps advertise and promote the cards.
Check the Balance on my Visa Gift Card
Visa provides a web page with step-by-step instructions for checking your balance. Navigate to this page, which has the headline, "How to Check Your Visa Gift Card Balance." You can call the toll-free number on the back of your card or go to the card issuer's site and enter the card's 16-digit number and security code.
Different companies offer different Visa gift cards, and the Visa web page lists a number of them, with direct links to their websites, including:
You can also use a general gift card website that sells cards, such as GiftCardMall.com, to check your balance.
Visit the Card Issuer's Website
Each business that issues a Visa gift card provides you with two ways to check your balance: one is to visit the website and enter your information, and the other is to call the number on the back of your card.
Call the Toll-Free Number
If you're not near a computer and don't want to use your phone to visit a website, you can call the number on the back of your Visa gift card. Follow the prompts to get your balance. Have your card number and security code ready.
Ask a Merchant
Whenever you make a purchase with a Visa gift card, get a receipt if you want to see what your new card balance is. Companies like Home Depot provide their employees with marker pens to write your balance on your gift cards if you'd like.
Tips for Using Gift Cards
Check to see if you can register your gift card as soon as you get it. If you lose it, you can then freeze it and get a new one – otherwise, someone else can use your card.
Always have a credit or debit card ready to use if, for some reason, there's a problem with your Visa gift card. The last thing you want to do when there are other people waiting at the checkout line behind you is to have a long conversation with a cashier or have to put your items back.
References
Writer Bio
Steve Milano has written more than 1,000 pieces of personal finance and frugal living articles for dozens of websites, including Motley Fool, Zacks, Bankrate, Quickbooks, SmartyCents, Knew Money, Don't Waste Your Money and Credit Card Ideas, as well as his own websites.