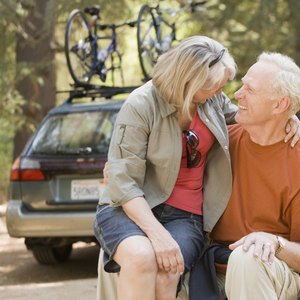 •••
Stewart Cohen/Lifesize/Getty Images
Many seniors live on a minimal income and prefer to maximize their quality of life on their present income. Before moving anywhere, seniors should keep in mind the cost of living for basic life essentials, such as affordable housing, utilities and reasonably priced grocery stores. Seniors also should consider whether the community has adequate accessible health care professionals and facilities, local senior activities, access to transportation and affordable retail stores. Depending on what a senior is looking for, the United States has plenty of places for seniors to move to that will not drain their economic resources.
Florida
•••
Stewart Cohen/Lifesize/Getty Images
Florida is an ideal place for seniors because of the consistently warm climate. Additionally, Florida is a popular state because the entire state is exempt from individual income tax. Florida towns such as Orlando, Gainesville, Tallahassee and Tampa-St. Petersburg are senior friendly because they offer plenty of affordable senior activities, low-cost housing and premier medical assistance with low insurance costs. Florida's thriving tourist state economy helps provide a stable local economy, which keeps inflation down. For example, Gainesville, Florida, is attractive to seniors because the local AARP has a strong Senior Community Employment Program that ensures jobs are available to seniors; additional income bolsters a senior's financial savings. Gainesville is a popular college town, so the local economy is booming, which keeps the cost of real estate low.
Texas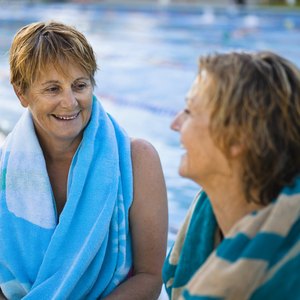 •••
Stewart Cohen/Lifesize/Getty Images
El Paso and San Antonio are two Texas towns that Smartmoney.com and Ideal-places-to-retire.com herald as the best cheap places for seniors to move. Texas does not place a tax on income and the state and local tax is 7.8 percent, at the time of publication, which is less than the national average. El Paso is a culturally diverse town with a low crime rate, and the average price of a house is $121,000, at the time of publication. The quality of life in El Paso also makes it an inexpensive place for seniors to live because the sun shines 302 days out of the year. Seniors can enjoy multiple inexpensive outdoor recreational activities, such as walking in the parks or camping around the many mountain trails. San Antonio's cost of living is 7 percent lower than the national average and grocery shopping bills are 22 percent less than in other cities.
Northeast
•••
Stewart Cohen/Lifesize/Getty Images
The Northeast is not typically considered a region that seniors think of moving to because of the rumored expensive cost of living. However, cities such as Buffalo, New York; Pittsburgh; Dover, Delaware; and Ithaca, New York, are breaking that myth. Ithaca's average price for a house is $149,000, at the time of publication, and the local economy is steady because of the industry that Cornell University and Ithaca College provide. Pittsburgh's housing cost is 30 percent lower than the national average, at the time of publication, and it also has the lowest costs for food, transportation, health care and recreational activities in the local region.
Arizona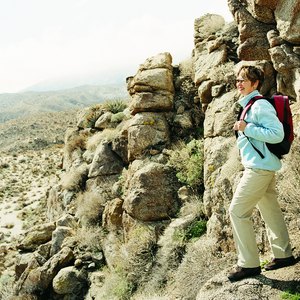 •••
Stewart Cohen/Lifesize/Getty Images
Arizona's weather attracts seniors who wish to escape cold areas and want to feel some heat. Yuma and Tucson offer inexpensive housing and affordable senior activities. Tucson's climate is not as hot as Yuma's. Yuma's low cost of living is attributed to the local agricultural industry, which provides 90 percent of the vegetables sold in the United States during the winter. Tucson's economy is supported by the University of Arizona. Tucson also is popular because of the increase in building retirement communities. Housing costs in these retirement communities are 20 percent below the national average and the overall cost of living in Tucson is 3 percent below the national average, at the time of publication.