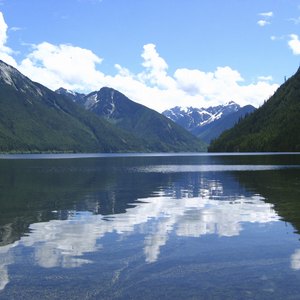 •••
Rick Jones/iStock/Getty Images
Is budget living possible in British Columbia? While most people are familiar with the very high cost of living associated with the Vancouver area, the big city's high prices only tell part of the story about the best places to live in B.C. for families. It turns out there are several affordable places to call home that are also very delightful.
A mix of budding industries and below-average home prices make these spots on the map ideal for anyone looking to live well on a budget. Take a look at the three cheapest places to live in B.C.
Prince George: One of the Cheapest Places to Live in BC That's a Major Hub
The largest city in northern British Columbia, Prince George is where 74,000 people have found a perfect place to call home at the confluence of the Fraser River and Nechako River. There's no doubt that many of those people were drawn here by Prince George's affordability factor. Prince George is the place to find the cheapest real estate in B.C. 2019 by most accounts.
It would cost roughly $1,367 dollars a month for a single person to live in Prince George. That's quite a contrast compared to the $1,831 needed in North Vancouver. With the average home price at around $407,000 in Prince George, residents pay roughly half for housing than their neighbors in other British Columbia communities. In Vancouver, the average home price is over $1 million.
Prince George is easily one of the best places to live in B.C. for families. On the culture front, it boasts several theaters, its own symphony orchestra and multiple museums. Located at the intersection of Highways 97 and 16, the city is considered the main hub for northern British Columbia.
Kamloops: One of the Best Places to Live in B.C. for Families Looking for Fun Attractions
Another spot for finding the cheapest real estate in B.C. 2019, Kamloops requires only a slightly higher income than Prince George for anyone looking for the best places to live in B.C. for families. It takes a monthly income of $1,266 to live comfortably in this city in south-central British Columbia. The average home price here is nearly $400,000.
For people looking to live in British Columbia for a fraction of the cost that it takes in other cities, Kamloops offers a beautiful slice of tranquility nestled where the North Thompson River and South Thompson River meet. This city of 90,280 is a true resort town. Known as the Tournament Capital of Canada, Kamloops hosts hundreds of sporting events each year. It is home to world-class hiking, biking and skiing trails.
Campbell River: A Top Pick for Cheapest Real Estate in B.C.
Coming in third on the list of the cheapest places to live in BC, Campbell River requires a monthly income of $1,230 for one person. The average home price is around $548,000. An emerging city, Campbell River is currently seeing big growth in the industries of construction, clean energy, technology, forestry and fishing.
It is known as the Salmon Capital of the World. Campbell River is connected to the rest of Vancouver by an island highway. The city is also a gateway to the Discovery Islands by way of BC Ferries (BCF). With a population of just 35,138, Campbell River offers the feel of a small town where big things are happening. There is a reason it's a popular tourist destination, with plenty to do.
References
Writer Bio
Adam Luehrs is a writer during the day and a voracious reader at night. He focuses mostly on finance writing and has a passion for real estate, credit card deals, and investing.