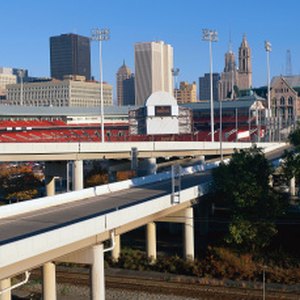 •••
Stockbyte/Stockbyte/Getty Images
Residents of Buffalo, N.Y., have a variety of options to get the best deal on cable and Internet service. Cable and Internet providers routinely compete for customers by offering package deals, or "bundles." These packages typically offer significant discounts above the amount you would pay for each service separately.
Comcast Packages
Comcast (comcast.com), a national provider of cable, telephone and television services, offers a variety of package deals in the Buffalo area customized to fit the needs of the consumer. While package pricing varies based on current promotions, typical deals as of 2011 included digital television and high-speed Internet packages for as little as $70 per month. The bundled price included more than 100 digital television channels and online service featuring download speeds of up to 12 megabits per second.
Time Warner Cable Deals
Time Warner Cable (timewarnercable.com), another provider of cable television, Internet and telephone services across the United States, offers Buffalo residents several package deals. While Time Warner offers bundles including telephone in addition to cable and Internet, packages can be customized to fit your needs. While offers vary, typical offers as of 2011 included 4-megabit high-speed Internet service, cable television with more than 100 channels, and digital home phone services for as little as $125 per month.
DFT Communications Bundles
DFT Communications (dftcommunications.com), a regional electronic communications provider servicing New York state, offers competitive deals on Internet and cable services when compared to larger, national providers. While DFT offers television services in cooperation with Dish Network and Direct TV, package deals on television and Internet services are available. Typical prices as of 2011 averaged about $80 per month and included high-speed Internet with download speeds of up to 4 megabits per second and more than 100 digital television channels.
Verizon Deals
Verizon (Verizon.com), another national provider of cable television, high-speed Internet and digital phone services offers an array of package options to Buffalo residents. As of 2011, customizable cable television and high-speed Internet packages were available for an average price of $75 per month. Costs included the receipt of 195 digital television channels and high-speed Internet service with download speeds of up to 15 megabits per second.
References
Writer Bio
Rebekah Worsham began writing professionally in 2007 and has been published on eHow. She has expertise in the fields of law, parapsychology and the treatment of drug and alcohol addiction. She holds a degrees in law from Beckfield College.